Having a spacious apartment or house is a rare commodity to find nowadays, especially in well-established cities. The amount of housing space available for people in the city can't cope up with the population increase, and thus housing has become much more compact.
One thing that gets affected most with the limited space that you are given is your bathroom. In every house, apartment, or any accommodation, there must be a bathroom. And having a limited space to work with can severely limit your options when it comes to bathroom fixtures.
Best Overall 10 Inch Rought In Toilet
(NoHasslePulmbing #1 Choice)
5/5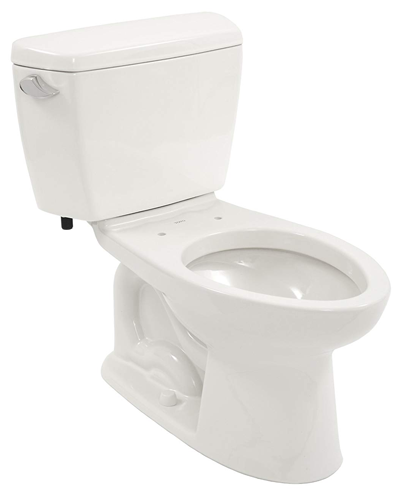 Fully Glazed Trap Way
Five Different Color Finish
SoftClose Seat
Ensure Longevity
Luckily, manufacturing companies and brands who produce toilet around the world have recognized this problem, and have designed specific toilets meant for compact and narrow spaces – and that's a 10-inch Rough-in toilet, as opposed to the standard 12-inch rough-in. It may seem like an overreaction to say that a 2-inch difference in rough-in would change anything, but if you have limited space available to you, you need all the inches you can get.
A rough-in is the measurement of the distance from the wall to your toilet fixture, and if don't have any idea how much rough-in is available in your bathroom. It can be very hard to move a rough-in and would take quite a lot of work, but in any case that your bathroom has a 10-inch rough-in or building a new bathroom, then this is your chance to utilize the space a 10-inch rough-in toilet would give you.
Looking for bathroom fixtures with very specific specifications can be very tedious, but that's where we come in. In this article, we present you some of the best 10-inch rough-in toilets in the market and have reviewed them one by one to help you meet your bathroom needs.
Table: Top 10 Best 10 Inch Rought In Toilets
Best 10 Inch Rough In Toilets – 10 Products Reviewed
We're starting off strong with a product from TOTO, one of the leading manufacturers of toilets in the market. They are well known for their smart design, careful engineering, and innovative features, made better with their signature sleek and minimalist design.
They stand by their products and ensure the utmost quality and durability while being reasonably priced. And this product is just one of the many that they have produced, the TOTO Drake two-piece elongated bowl and tank.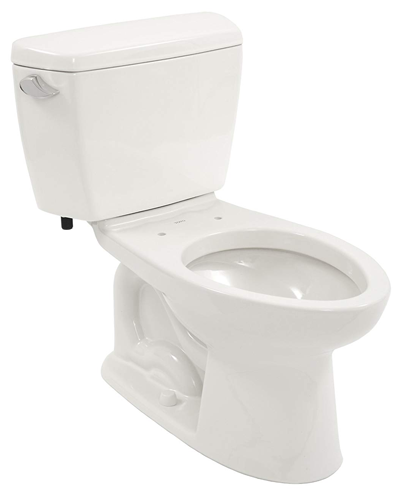 5/5
Pros
Eco-friendly
Chrome plated trip lever
Has a powerful and noiseless flusher
Cons
Bowl has a ridge which makes it to look like it has a bad stain
This product provides your bathroom with that simple yet eye-catching design, that is not just beautiful, but also has the durability, reliability, and power meant for residential and commercial use.
It's equipped with TOTO's well-known flushing G-Max flushing technology, which utilizes a 3 inch wide flush valve situated in the tank, some large siphon jets, and a wide trapway to compliment it all. All of those components work together in order to create a powerful yet water-efficient flush, which only uses about 1.6 GPF of water.
How this product's flushing mechanism works is that the siphon jet sucks away water from the tank, drawing it out with force to create pressure, which rushes on and down the bowl with force, quickly and efficiently flushing all the wastes, while the large and wide trapway allows the water to pass through freely, for a more quiet flush while also avoiding wastes from clogging.
TOTO is known for innovative and quality ideas and it is really good value for money. TOTO Drake system has a powerful flushing system that are durable, allows you to save water, and they are comfortable.
This toilet has a classy and elegant design, which is available in different color variants. You can up it even more by getting a TOTO Electronic bidet, a luxurious washer that would clean your private parts after using the toilet. This product may have an elegant design, but it doesn't stand out much and will be a great addition to your bathroom no matter the theme.
When it comes to durability, this product is nothing to scoff at either. The material used to make this product is vitreous china, which is another variation of porcelain, only stronger and smoother.
It gets its durability by coating it with enamel glaze during the heating process, and after it's cooled down, the final finish would be a smooth and durable product that is scratch and stain-resistant.
The height is one of the downside for this product; this may be tough for tall people and people with joint problems.
This rounded toilet from the Colony series by the manufacturer American Standard seamlessly works hand in hand with other items of the Colony suite to create that seamless and sleek look. It's equipped with an elongated bowl to give users maximum comfort while the PowerWash design effortlessly cleans and drains the bowl of any wastes.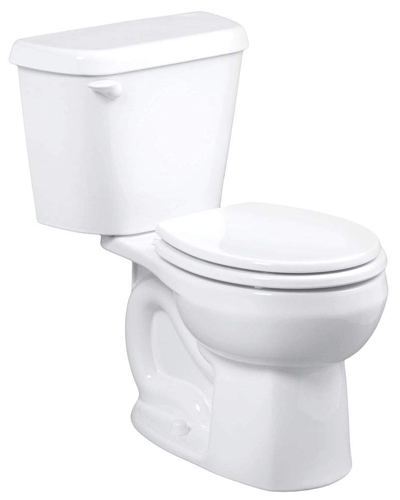 4.8/5
Pros
Elongated toilet seat
Features a Vitreous construction
Efficient on water
Cons
2-inch flush valve result in weaker flush action
Durability isn't an issue either. Made with the same material as porcelain, but only stronger, it can stand the test of time and can handle years and years of constant use without showing any signs of wear. All of that is because of the enamel glaze that, which makes the porcelain even stronger and durable, all while giving it a clean and smooth finish, making this product easier to clean.
This product is carefully designed for enhanced durability, aesthetics, and reliability. The greatest addition on this unit is the Power wash rim that scrubs away all the sticky particles with each flush.
If you want water efficiency, then this product has it. It's EPA compliant with a WaterSense label which means it utilizes 20% less water than a standard commercial toilet. This product is a highly efficient toilet, utilizing only 4.8 liters or 1.28 gallons of water per flush, and that's all thanks to its siphon jet and PowerWash rim system.
The PowerWash technology sprays the bowl and cleans it with pressurized water coming from the rim, then the siphon action in the bowl sucks out the water with pressure, creating and adding more force to the water, which then effortlessly cleans the bowl and a wide trapway for a smoother and quiet flush.
It's different color schemes allow you to mix and match with the theme of your bathroom. This toilet may be compact, but it has all the essential functions and features that a quality toilet must-have, making this one great addition to your bathroom.
It lacks some of the features than other American standard models like an ever clean technology as well as an anti bacterial surface.
Comfort and efficiency is the aim of Kohler with this product. It's equipped with a comfort height that's accessible and makes it comfortable for people of various ages to use this toilet. It has the same height as a standard chair, which is 16-18 inches above the floor. This feature is especially useful for elders or for those who have some physical disabilities that may be having trouble sitting and standing up on a standard toilet.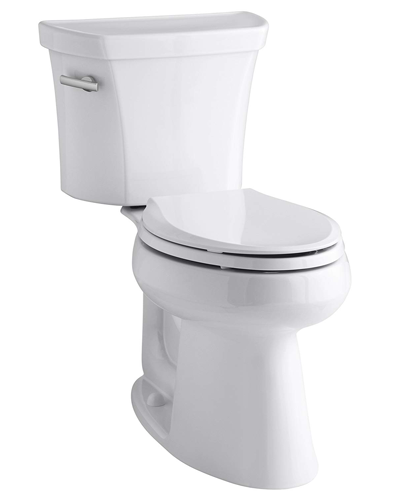 4.7/5
Pros
Water efficient
Excellent seat height
Class Five(R) flushing performance
Cons
The design has too much of curves which builds up bacteria
And with the extra height, there's less pressure applied to your body and joints when sitting down and standing up. Add the elongated bowl design to that, which gives the user more space to sit in. You now have one of the most comfortable product in the market.
Although an elongated bowl may not be that good in a cramped up bathroom, the product's 10-inch rough-in make up the for the space it consumes. It also comes equipped with a 5 class plush, which designed to be an efficient and powerful flushing mechanism, easily removing and washing away wastes from the bowl.
Kohler is one of the leading manufacturers of 10" rough toilets; it comes with a compact design and has a good look. The Kohler canister flush valve deliver superior flush power, thus save the water.
The flushing mechanism only uses about 1.28 GPF of water, making it on par with some of the most water-efficient, and environmentally friendly toilets in the market. The manufacturer has stated that this toilet could save you somewhere around 16,500 gallons of water per year, allowing you to save more money from water bills.
This toilet comes with three pre-installed bolts that would save you the time during installation, and even money, if you know what you're doing. This toilet is one of the best product you can get with a mid-range budget. It'll surely meet your needs, and exceed your expectation, just as any of the products from Kohler.
It is slightly more expensive option but it has abundant amount of features, those who are looking for a budget-friendly option, this is not the right choice.
If you're looking for a budget-friendly toilet that would fit well in the tight spaced bathroom, while still having the useful features a premium toilet has, then you might like the American Standard Cadet 3. This ADA compliant toilet makes for a great addition in your bathroom or your office.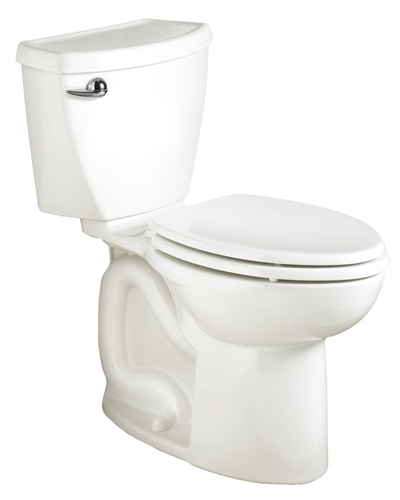 4.6/5
Pros
Equipped with a large 3 inch flush
Has Everclean antimicrobial surface
Durable
Cons
This toilet sits in the low to mid-price range but is still carefully engineered and designed by American Standard to be durable. And that's what you want from a toilet – you don't want to be constantly replacing your toilet every year or so because it's frail and fragile.
One great feature about this product is that it cleans itself. And what I mean is that it's equipped with EverClean technology that gives the toilet anti-bacterial properties that would stop and kill odor-causing bacteria as well as mildew, molds, and germs. It also gives the product that smooth finish that prevents any wastes and outside contaminants from sticking on to it.
The American Standard Cadet toilet comes with a triangular shape which makes it suitable for small spaces. The antimicrobial surface assures a clean toilet all the time, height is also great for everyone.
If the EverClean technology hasn't convinced you to purchase this product yet, then its water efficiency will. This product is WaterSense labeled, which means compliant to EPA standards and uses 20% less water than the standard toilet.
If a product is EPA compliant, then it's already considered to be one of the best when it comes to water efficiency. Since the world is already struggling for clean water, having an EPA compliant toilet is one way of helping in saving the environment, and also in saving money because of a lower water bill.
It has an elongated bowl which serves great comfort for the user, while only taking minimal space. It's equipped with the Cadet 3 flushing system, which utilizes an oversized flush valve, measuring at 3 inches to push down the water from the tank to the bowl with pressure, and with the help of gravity adds more power to the flush, effortlessly cleaning your bowl, and with a wide trapway, reduces any chances of clogging.
One of the major downsides of this product is, it doesn't come with a toilet seat so you have to purchase a seat separately.
This two-piece toilet boasts a simplistic and minimalist style and yet has the features, functionalities, and durability that would put this mid-range priced toilet beside the top toilets in the market. On top of that, it's manufactured by KOHLER, which never fails to deliver with their products. They are one of the leading innovators when it comes to toilet design and efficiency.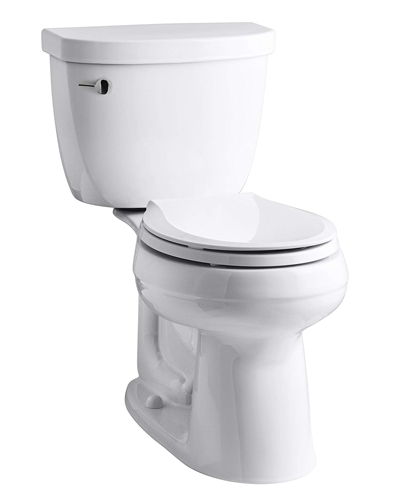 4.8/5
Pros
Chrome handle is easy to use
Comfort height
Efficient flushing
Cons
The KOHLER K-3851-0 is a product from their Cimarron collection series that has a sleek and versatile look that could match and blend in perfectly with whatever theme your bathroom is. It has an efficient flushing mechanism that would save you about 16,500 gallons of water annually, only using about 1.28 gallons of water per flush, stored in a 3.5-gallon tank, without the need to compromise performance.
This two-piece front toilet really boasts of low water consumption, it uses Aqua piston technology which ensures that there is nothing left after you push the flush.
With this toilet, you will never need a plunger again, and that's because of its AquaPiston flushing technology. One of the patented features of KOHLER is a powerful piston situated in the tank. The piston pushes the water out of the tank and out into the bowl, then water flows into the canister from 360 degrees, which then performs a powerful flush that would prevent any wastes from clogging the toilet.
The toilet has an elevated height of 17 to 19 inches which makes it accessible for everyone including elders and people with disabilities. Because of the chair height, it will ease the tension that is applied to your body and your joints, allowing for a more enjoyable toilet experience.
Due to its shape at the base you may feel hard to use a plunger on the toilet also it doesn't come with a matching seat.
The Champion 4 indeed lives up to its name. This product is a champion when it comes to efficiency and power in flushing, and that's no surprise with it being a product from American Standard.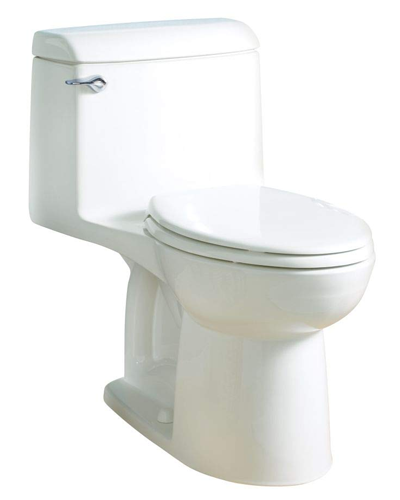 4.5/5
Pros
Uses 1.6 gallons per flush
Elongated siphon jetted bowl
Comfortable to sit on
Cons
Too noisy during the flushing process
This single piece toilet has an elongated bowl designed to promote maximum comfort for the user, while still being space efficient. It features a contemporary design, equipped with EverClean technology that gives this product anti-bacterial properties, reducing any forming of mold, odor-causing bacteria, germs, and more The EverClean design allows your bowl to be self-cleaning, it's smooth surface gets rid of soil particles and waste materials sticking on your bowl, and a single flush would clean every nook and cranny of your bowl clean.
This product has a highly efficient flushing system, utilizing siphon jet systems in the bowl and a 4-inch flush valve, very low-consumption only using around 1.6 gallons of water per flush, allows you to save water and money in the long run.
It provides the best clog-free performance and thus offers powerful flush each and every time. The design is very attractive with one-piece style.
The two mechanism work hand in hand to creating an efficient but powerful flush, capable of moving and eliminating more than 70% of large wastes materials compared to standard toilets. The oversize flush valve in the tank releases pushes out the water from the tank with great force while the siphon jet sucks the water through a large trapway, adding more force and pressure to the water, effectively cleaning the bowl.
One of the most annoying things after using the toilet would be the toilet seat slamming, the sound it creates can wake a whole household up, but with a soft close seat technology, that thing is in the past. This product is a perfect addition to your bathroom, and with its price, it's a must-have.
You may face a problem with flushing; it requires too much of flush power to get anything down so sometimes it may be give irritation.
The KOLHER K-3713, or is better known as the Highline Classic, has a much cleaner and sleeker look compared to any other products from KOHLER. It features a tank with pointy edges and a base which is closer to the wall than any other products.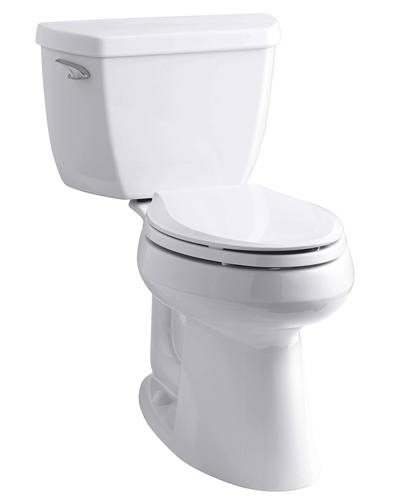 4.6/5
Pros
Class Five flushing technology
Water efficient
Super powerful flush
Cons
It doesn't include the seat and the wax ring
The base is designed to have an elongated shape to evenly distribute the weight, making it sturdier. While the toilet itself is at chair height or comfort height as they call it, which allows for much easier access for elders, while also making it comfortable to sit on and stand up.
One of the best features that this product has is the Class Five flushing technology, which removes large wastes using a powerful suction that removes all the wastes that might leave streaks on your bowl, denying any stains from forming at the sides.
It uses only 1.28 GPF of water so that doesn't require a double flush; one of the best features of Kohler K-3713-0 is its water efficiency that's why just less amount of water is enough to dispose the waste.
The Highline Classic is also EPA compliant, earning its WaterSense label if a toilet has that label, it usually means that it's more efficient compared to other standard toilets, utilizing 20-30% less water. And with this toilet, it only uses around 1.28 gallons of water per flush.
It boasts an elegant and smooth finish with anti-bacterial properties because of its Vitreous China finish. Vitreous china is what porcelain glazed with enamel is called, usually done in the heating process to further strengthen the product.
Most of the customers' complaint that this product is not elegantly designed and it clogs incredibly easily. It doesn't come with the seat but works with the elongated bowl.
TOTO's goal is all about providing a simple but brilliant solution to the most basic human bathroom needs, the toilet. Every products design, detail, features, and more are made with you, the consumer in mind. TOTO stands by their product and promises you an experience of a lifetime.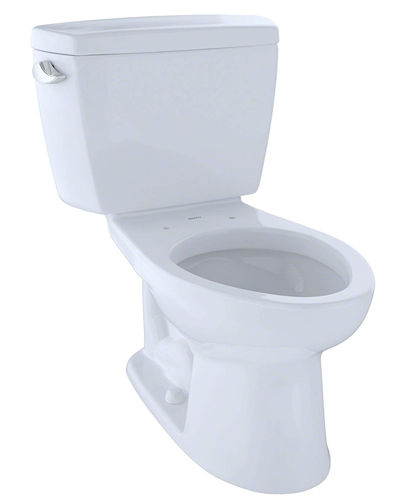 4.5/5
Pros
Elongated front bowl
Features G-max flushing system
Attractive Two-piece design
Cons
Requires too much pressure which can break the push button
And that experience could be with this, the TOTO CST744SF or the Drake Two-Piece Elongated Toilet. Designed to be space-efficient with its 10-inch rough-in, and comfortable with its an elongated bowl, offering more sitting area to the users while still utilizing the same space as a rounded bowl would.
It offers a high-profile and classy design with a strong and efficient flushing system, perfect for commercial or residential use. It's also made out of only the best high-quality materials to ensure that this product will stand the test of time and will be able to handle constant high use.
Installation is fairly easy for this product, both that tanks and bowl was very well padded and protected. The impressive feature is flush as it also refills quickly.
You don't need to dread about your toilet seat slamming with this product as it's equipped with a SoftClose seat technology, slowly lowering the lid when it's close to the seat. This product can also be upgraded and be customized to have an electronic washlet bidet equipped, allowing for a thorough cleaning and better hygiene after toilet use.
This product utilizes the GMAX flushing system which employs the help of a 3-inch valve inside the tank, with huge siphone jets in the bowl, and a wide trapway. Those mechanisms work in unison to create a powerful yet quiet flush. With a powerful flush, it doesn't need to use huge amounts of water. The GMAX flushing system only uses the minimum amount to thoroughly clean the bowl, using only 1.6 gallons of water per flush.
This may not be the right one for those of you working with lower budgets, but at the same time it's a good fit for everyday home use.
Add this to the many American Standard products that are in this list. That should be enough to tell you how reliable and high quality their products are, and the H2Optimum Siphonic Round Front Toilet is no exception.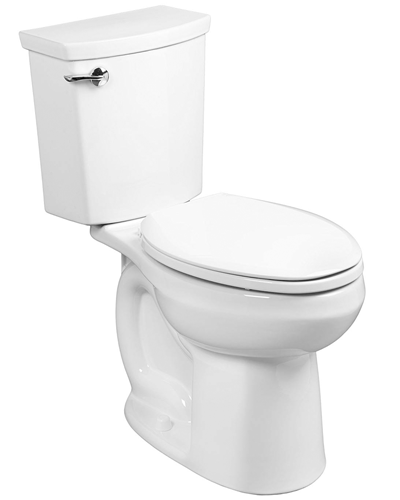 4.5/5
Pros
Ensures low consumption
Comes with Power wash rim
Only uses 1.1 GPF
Cons
This product is EPA compliant and has a WaterSense label, which generally means that this product is water efficient. Only using about 1.1 gallons of water per flush, that's much lesser than what standard toilets use.
You may think that with that amount of water, it'll hardly clean the bowl, but no – it's powerful flush needs only a little amount of water for it to efficiently clean your bowl. While the PowerWash rim effectively scrubs the bowl with pressurized water every time you flush.
The overall construction is fantastic as a result it offers a long-lasting performance. This is a high efficiency toilet that meets EPA water sense criteria.
A fully glazed 2-inch trapway allows the water to exit smoothly out of the bowl. Also, with a wide trapway, clogs will rarely happen. The vitreous china material that is used to strengthen this toilet makes it easier to clean as well, but not only that – it's smooth surface doesn't allow any sand and waste particles from sticking, effectively getting rid of stains from forming. It also adds anti-bacterial properties to the toilet which prevents any mold, mildew, and any odor causing bacteria to form.
The elongated bowl and higher bowl height promote comfort and accessibility to the user. The elongated bowl gives the user to cover a wider surface area while the comfort height allows the user to easily access the bowl, with it being close to chair height.
This toilet is designed with a narrow tank so the elongated design may not fit the older placements. Didn't come with a wax ring or seat.
KOHLER and American Standard have been duking it out in this list, and it's no surprise. Along with TOTO, they are holy trinity when it comes to creating, designing, and engineering toilets.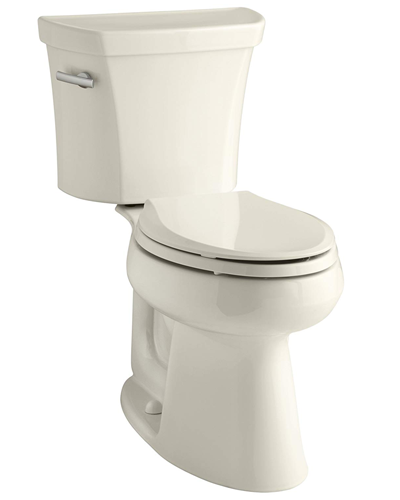 4.4/5
Pros
Smooth flushing activation
Comfort height
Has a smoother side on the tank
Cons
Trapway is small so clogs may occur often
The Kohler K-3999-47 Highline Comfort is a two-piece type of toilet with a clean and sleek finish, which is because of the material used to make this product. Vitreous china strengthens the porcelain even more while giving it that smooth finish, it is an enamel that is glazed on porcelain and is then exposed to extreme heat to cure the enamel. And as a result, you have a much more durable and robust product.
The two best features of this product is, its canister valve and class five flushing technology. It has smoother sides on the tank and base so you can clean without any issues, you can save up to 16.5 gallons of water every year.
Sitting and standing up on a toilet has never been easier on the body than with this product. And that's because of their comfort height design, which makes the toilet have the same height as a chair, promoting better access for people of all ages.
If efficiency is what you're looking for, then this product is it. Utilizing only 1.28 gallons of water per flush, it allows you to save a lot of water annually and also saving on your water bill.
The downside is water can easily enter inside the base as a result it may harm the wax ring, clogs may also occur so this may not be efficient in that case.
Factors in Choosing a Toilet
The main reason why we constantly visit the bathroom is not for taking a bath or a shower, but rather to use the toilet. Back in the day, people used to do their business outside on outhouses and shacks with a septic system. But everything changed when the toilet and plumbing were invented. The need to go outside to excrete our waste was no more. And today, toilets are so advanced that some even do the cleaning for you, all you need to do is just to press a single button.
It's not about whether we have a toilet or not anymore, but whether is it comfortable and functional enough to meet me and my family's needs. And that's why when shopping around for a toilet, there are lots of variables and factors that need to be taken into account before committing to a purchase
In this article, we'll be guiding you on the things that you need to look for in shopping around for toilets.
We'll start by the types of toilet:
There are four different types of toilets are available.
Two-piece toilet – This is the common type of toilet that you will come across almost everywhere, from establishments to homes, they are the most mass-produced kind of toilet. And as suggested by its name, a two-piece toilet consists of two parts, the bowl, and the tank.
Some benefits of getting a two-piece toilet are the ability to customize it, so you can match it with the theme of your bathroom. Another one would be, it's less pricey compared to its counterpart. Transportation is a lot easier as well because of the ability to detach the tank and bowl, making it lighter.
One downside of a two-piece toilet though is that the part where the tank and the body connects creates a seam in which dirt may get trapped, making it harder to clean. Or potential leaks may occur if the two parts are not sealed properly.
One-Piece Toilet – A one-piece toilet is a more modern take on the two-piece toilet. It has a more futuristic look and vibe to it and is more pricey. But some may argue that the ability to install and clean this toilet effortlessly is worth its price.
Manufacturers have come up with various designs to a one-piece toilet. Some may look like a standard one, but others look more futuristic with compact tanks and more sleek design.
If you have the budget for it, then most people will advise you to get a one-piece toilet because of its functionality and aesthetic. But if you want to get a one-piece toilet with the classic look to it, there are toilets that are designed like that available in the market.
High-Tank Toilet – If we're talking about functionality, then a high-tank toilet is more or less the same with a two-piece toilet. The only thing different is the positioning of the tank, which some may disagree with because it exposes the plumbing in between the toilet set and the tank.
Although some may disagree, there are tons of other people who love this kind of toilet because of the retro and quaint style to it. It has that old-world charm that would take you back to the olden times. If you don't want to be bothered by the exposed plumbing, you can paint it to match the aesthetics of your floor.
Because of the rarity of a high-tank toilet, it's a much more expensive one compared to the two above. The rarity of this kind of toilet drives its prices high, but if you love the look of it and have some extra cash to burn, we'd recommend this type of toilet.
In-Wall Toilet – For those who love the aesthetics of a minimalist design, then an in-wall toilet would be a must have. It gives your bathroom that sleek and minimal design because of the way this toilet is installed. The tank is hidden inside the wall or mounted inside the wall, and the only thing exposed is the bowl. Although one downside to it is that installation can be complicated, and you will, most of the time, need to employ the help of a professional, thus making it more expensive.
Other than that, an in-wall toilet is space-efficient and is very futuristic looking. It has all the quality features and functions that a premium toilet will have.
Now that we've discussed the different types of toilet, we'll move on to the features and design.
Type of Flushing
Now that you've chosen the style in which you're going for, it's to choose what type of flushing do you want to have in your toilet.
Pressure Assisted Flushing – Most pressure-assisted mechanisms are installed inside a wall, so it's best to see if you're allowed to install one. A pressure-assisted flushing mechanism gives the water a little bit of oomph, making it easier for the water to wash out wastes materials.
Gravity Assisted Flushing – This is more reliant to the laws of science. A gravity assisted flushing mechanism employs the help of gravity to increase the water's force, effortlessly flushing away all the waste materials.
Seat Height – Another choice that you could make is to choose which seat height do you prefer. A standard toilet typically has a seat height of about 17 inches, and are most common in homes, apartments, and offices.
But there's something called a "comfort height" on toilets that raises it 2 inches more than the standard. That extra 2 inch allows the toilet to be a lot more accessible to people with disabilities or elders. A higher toilet adds less stress to your body and joins whenever you stand up or sit.
Placement – For maximum comfort, a toilet must be installed where there are no other fixtures near it such as a sink, bathtub, or shower.
Buttons and Levers – A traditional or standard toilet has a lever, but the latest lines of toilets nowadays have two buttons, which is called a dual flushing system. That two buttons allow you to choose whether to do a soft or hard flush. Soft being meant to flush out water wastes, and the hard meant to get rid of solid wastes.
If you want to be more water-efficient, I'd suggest taking the dual flushing system route. It may be an expensive investment, but it would pay itself in the upcoming years that you'd save money from the water bills.
Final Words
Basically, everyone has different toilet needs. Before you go shopping around for a toilet, find out the specifics of your bathroom and decide accordingly to the toilet you want to get. But no matter what kind of toilet you want, it's important to prioritize your comfort and the efficiency of the toilet next.
If you're hard-pressed for space in your bathroom, getting a space-efficient toilet would be ideal such as an in-wall toilet, a corner toilet, or 10-inches of rough-in toilets. If you chose rough-in then there are four things that you need to consider before roughing-in a toilet. Those are just some of the options people take if they're in that situation.
Disclaimer: If you purchase any products in this post, we may receive a small commission. We promote only the products which we test and recommend. Read our affiliate disclaimer here.