In my gardening experience, setting up and making compost requires a lot of time, attention, and energy, which most of us don't have.
Sanitation and cleanliness is also a concern. If you ask other people who tried composting, they will all tell you the same thing, it isn't easy.
But what if I tell you that there's a way to resolve this problem easily? And that solution would create compost without the need to exert much effort, time, and energy on it. We're talking about composting toilets. Ever since gardeners have discovered that there's a toilet that would make their composting job a bit easier, all while relieving you of your wastes, they have started to slowly make the change.
Best Overall Composting Toilet
(NoHasslePulmbing #1 Choice)
5/5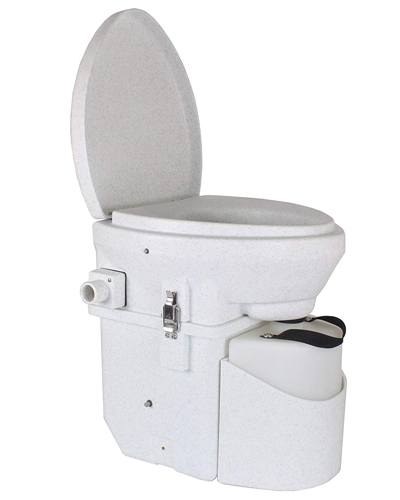 Elongated Shaped Seat
Easy Disassemble
Stainless Hardware
Portable Construction
Ever since the toilet was invented back in the 1700s, the function of it remains the same, the water flushes out the wastes and carries it into a septic system or a treating system, but the features are constantly evolving. For people living in rural areas, wastes get transported to treating facilities through the sewer system, which costs millions to build and maintain. While in the more rural locations, the wastes get stored in a septic system, which builds up over the years, so it needs draining every few years or so.
But if you have access to neither of those or just want to be efficient in utilizing your wastes and use it in your gardening, a composting toilet is a way to go. The world needs all the help it can get, and one way of helping it is by going green through the use of a composting toilet.
Rather than spending thousands of dollars in treating wastewater, or getting your septic system drained, a composting toilet breaks down the human waste, remove all the liquids from it which human waste is 90% made out of, and overtime decomposition happens to create nutrient-rich compost.
But if you're a newbie with this kind of stuff, you might feel a little bit overwhelmed in choosing a compost toilet. Well, that's why we're here. We looked for some of the best composting toilets of 2019 and reviewed them thoroughly 1 by 1, allowing us to come up with this list – The top 10 Best Composting Toilets of 2019 and you will know about critical factors such as composting toilet types, the materials used for, and price range that should be considered while choosing the toilet.
Table: Top 10 Best Composting Toilets
Best Composting Toilet – 10 Products Reviewed
This product is the latest one from Nature's Head. They are a company in the US who's aim is to manufacture a user-friendly and accessible toilet for those people who are always on the move, allowing you to have a toilet practically everywhere you go, that is also durable and can withstand harsh conditions, especially places with no septic system and plumbing. This toilet is a perfect addition for your boat, recreational vehicle, and a bus.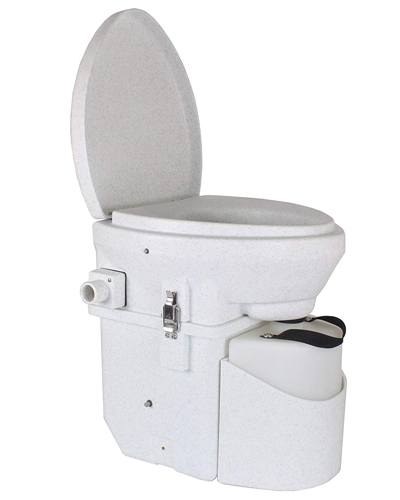 5/5
Pros
Durable base
Has circulation fan
Lightweight
Cons
Requires more space for removing solid waste from the base
The manufacturers have designed this product to have a similar look as to that of a standard toilet, but the functions are very different. This product has a tank container for liquid wastes that are situated in front of the bowl.
The bowl has a hole in it which forces down the liquid wastes onto the liquid container tank. And any solid wastes go to the back of the toilet and into a separate tank which can be easily removed fort dumping your wastes or for your compost.
When using this product, you can pull back the seat all the way back against the wall, allowing you to support your back with it. If you're looking for a product that can withstand constant use and traveling, this may be it.
Its base uses a molded construction, but the other components are made out of marine-grade stainless steel that is able to withstand high amounts of pressure without it getting damaged, making sure that this product lasts for a long time.
It comes with a crank handle rather than the spider handle, which obviously increases its overall width. There is a line for setting up vents just to reduce the odors, so you no need to worry about it.
Some people are concerned about the smell that this toilet will potentially make, but surprisingly, this product doesn't smell at all. And that's because of its ventilation system.
There is a small exhaust fan situated inside the toilet that draws fresh air from the environment and out it goes through an exhaust tube. The tube needs to be situated outside the RV, boat, or wherever you install this toilet otherwise you're just circulating the air all around you.
The inside fan doesn't just keep the smell away, but it also prevents the forming of mold due to the fan keeping the insides of the waste tank dry.
It needs adequate cleaning so you have to wash the bowl with hot and soapy water to reduce bad odors this may be irritating for everyone.
This product is one of the latest releases from Separett. The Villa 9215 AC/DC and is the updated version of the previous Villa products. It's one of the best products you can get with advanced features that also user-friendly, perfect for off the grid living, or in a place where water is scarce, and that's because this product is waterless.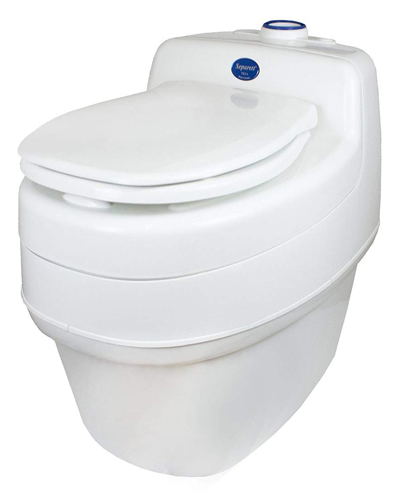 4.8/5
Pros
Sleek design and compact
Low power consumption
Pressure sensitive seat
Cons
Whether you're living on or off the grid, this composting toilet is a great partner for you. It can function both ways, AC or DC. AC which means it's plugged in, or powered by electricity, while DC is powered by a battery or solar power. It's equipped with a single fan that has both AC/DC adaptors to ventilate the toilet to keep the odor away.
Upon purchase of this product, you also receive the other components necessary for your ventilation such as the US sized piping, 10 composting bags, a single waste container with a lid, and you can only opt in to get a child seat. And you are guaranteed a refund if the product arrives with defects or shipping damages.
In this design there are two locks which can be pressed down whenever you open the top seat of the toilet to remove the waste, this works great as it stops the risk of having the seat fall on you.
When it comes to installation, you must situate this product properly to utilize the AC/DC adaptors. If the toilet is installed in a place where it doesn't get used often, or there's no constant source of power, then it's best to close the lid of the waste container so you don't need to ventilate. Once you need to use it again, just start the ventilation system back up and you're good to go.
When it comes to the looks, it passes the test of having sort of the same look as a traditional toilet, which for some many are a concern. It still has a rounded bowl, while the container serves as the base of the toilet. The container is easily detachable to the toilet so you can dispose of your waste properly.
It may be larger so you can't fit within small spaces, so this is not the right choice for people who need the small toilet. It's too expensive but worth the price.
When it comes to composting toilets, Nature's Head is ahead of the curve. They design and manufacture some of the most efficient composting toilets in the market. And having a second product in this list just proves their quality. They offer the top quality products while still being reasonably priced.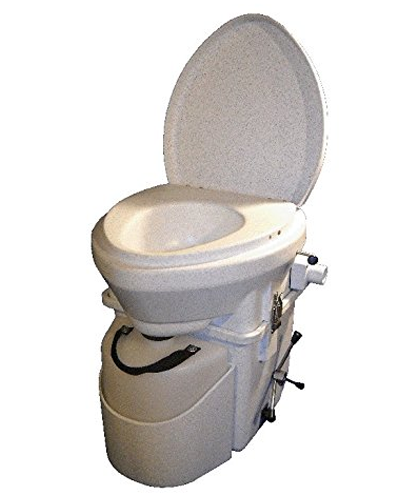 4.7/5
Pros
Robust construction
Fan and vent hose included
Full-size elongated seat
Cons
But it's not just about affordability either, but the overall quality and functionality of the protect. And Nature's Head has stood by the quality of this product and its innovative features. This product will never fail you when in times of need.
It promotes maximum comfort with its elongated and large bowl, and this toilet looks like your standard bathroom toilet, only with additional features that make it environment-friendly. Although it has some height to it on photos, it's only just the same size as a standard toilet, only with a spider handle equipped to it, which makes disposing wastes in the right container easier.
This toilet is perfect for small houses or cabins that, adding water to the tank is optional, depending on whether you have water access or not.
It is built with the latest technology, each and every metal part of this product are made of 100% stainless steel. This is the perfect composting toilet for RV's and the most durable model on market.
This toilet can accommodate a family easily, it's equipped with a large tank that is capable enough to handle wastes for two adults for up to six weeks, if you have a family of 4 or 6, obviously it'll fill up more, but emptying the containers won't take more than 5 minutes or so. This product is equipped with two containers, one for liquid wastes storage, and the other for solid wastes, which is then used for composting.
When it comes to keeping the odor in check, this product is on top of it. It's equipped with a ventilation fan which has a 12 volts plug. The fan absorbs air while the ventilation hose blows it all out, drying the solid wastes which are comprised of 90% water, and when it dries, it turns into a nutrient-rich medium.
The major downside of this product is the residual can cause a big problem if it is not treated immediately. The vents are also known to malfunction.
In 1971, the first-ever self-contained composting toilet has been invented, and it was by Hardy Sundberg. And to keep up with that tradition, SUN-Mar's lead researcher and developer are a Sundberg. They are still and is the world's leader in innovating the self-composting toilet, taking a hold of the American market.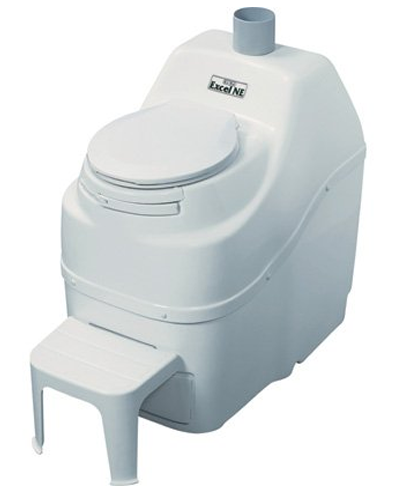 4.6/5
Pros
Comes with low-profile units
Non-electric model
100% pollution free
Cons
It gets clogged with debris
This product from SUN-Mar, namely the Excel Self-Contained Composting Toilet is perfect for those who're always on the go or to those who want to live off the grid and that's because this toilet is water and odor-free that requires no electricity to function.
It's equipped with two separate bins one meant for liquid wastes and the other for solids. It'll take a month or so before it needs cleaning and dumping when in constant use by 2-3 people. This toilet also does a great job at composting toilet papers.
It's not just great engineering, but the design of this toilet is also very compact while flaunting a minimalist design. It designed by the company to fit on bathrooms with minimal spaces. The handle is also situated in front of the toilet and not on the side, which allows this toilet to be situated in narrow spaces.
If you're tight for space then I'd suggest that this is the best option, it's tiniest of tiny house details. The low profile unit complements any bathroom that you want to put inside of, it's ideal for all other outdoor activities also.
This product is also NSF compliant, and in order to do that, the product needs to be thoroughly tested under heavy load for six consecutive months.. And during that time, the toilet must not produce any odor, and at the same time producing a healthy and nutrient-rich compost. This product is also quite the heavy-duty, able to handle constant and heavy use of 2-3 people, and in a vacation of five to seven people, it can last up to a week.
Installation doesn't require much effort either, the only thing that is quite complicated is the installation of the ventilation vent. Upon installation and use of this product for the first time, a special mix of peat and microbe is added to the compost bin, which is useful for the maintenance of your compost bin. And if you need to empty out the bin, you can easily slide it out of the tray.
Though the unit is sleek, compact, and non-electric it is not completely odor-free, which is the major drawback of this product.
For an average user with a mid-range budget, this product from Nature's Head is one of the best product they can get. And as far as the normal consumer is concerned, their products are meeting their standards in an astounding matter.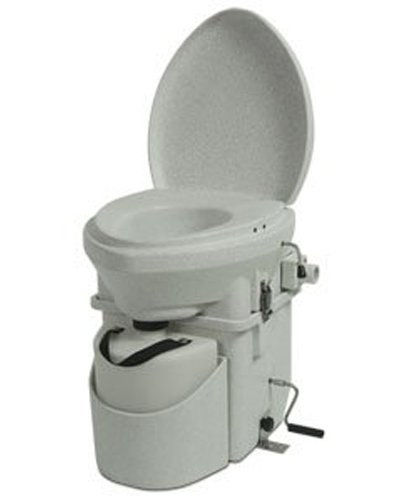 4.8/5
Pros
Has ventilation hose and fan
Full-sized seat
Fast composting
Cons
Hard to deal with the side latches
Nature's Head has built its products astoundingly well, it's durable, reliable, efficient, and sturdy. And what's best about this product is that it's very affordable compared to other high-quality composting toilets in the market.
What describes this product the most is that it's an efficient and practical product, able to function wherever you put it, whether on a boat, mobile home, or any place where there's no plumbing and electricity available. This self-contained toilet has a water diverting system, and without it needing water, it promotes ease of use for various applications.
It comes with a comfortable seat which makes it easier for you to use, the low volume fan provides you the optimal ventilation system. It have been designed for ultimate durability even in worse weather conditions.
One innovative design of this product is its dry composting feature. It segregates the liquid and the solid wastes, to avoid it mixing the water wastes and compost, which would lead to leakage. With the absence of water in the compost, there's a lesser chance of odor escaping, while also retaining the moisture of the compost mix, which makes it ideal for hygienic composting
The way this product is constructed is no joke either. It can withstand constant and use for many years, all while being lightweight, which makes emptying and relocating this toilet a lot easier.
The design forces the user to lift up the whole unit to remove the compost which requires upper body strength, and an injury. So this is not liked by some customers.
The second one of the more products from Sun-mar that would be on our list is the Sun-Mar compact self-contained composting toilet. This toilet doesn't require any water to function, and only uses a standard amount of electricity to run.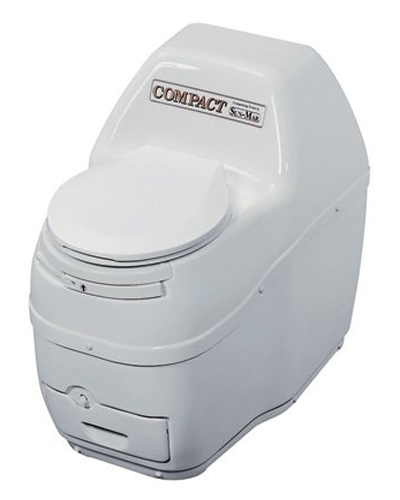 4.5/5
Pros
Waterless operation
High capacity unit
Has Bio-drum for processing compost
Cons
Studies have shown that this product is so effective in composting that it practically produces no odor. Rest assured that if you have this toilet, it'll give you the utmost reliability and functionality that a composting toilet can offer.
This product has an elegant but compact design that allows this composting toilet to complement any bathroom that this fixture is installed on.
The model is designed with high capacity tank systems and it requires no water which makes it a top recommendation for an area with no access to water supply.
The people at Sun-Mar has equipped this product with a patented technology that they have developed that equips this product with a Bio-drum, which separates two human wastes, one small drum for liquid and the large drum for solids. There is also a handle which you can operate and mix the compost in the toilet from outside so you don't need to open it up.
A 2-inch vent is then installed in this product that would aerate the compost mixture while the emergency drain offers an alternative way of draining this product during heavy use or having an extended period of a power outage.
Sun Mar Compact Composing toilet is not user-friendly as the other models, the product may seem to be pricey, and you will feel hard to install.
This product is perfect for those who have no consistent source of electricity and wants a fixture meant for light seasonal use. If used lightly during the seasons, then this product is more than capable of holding a compost for a one season. Allowing you to extract the compost during springtime where it's time to plant vegetables and fruits.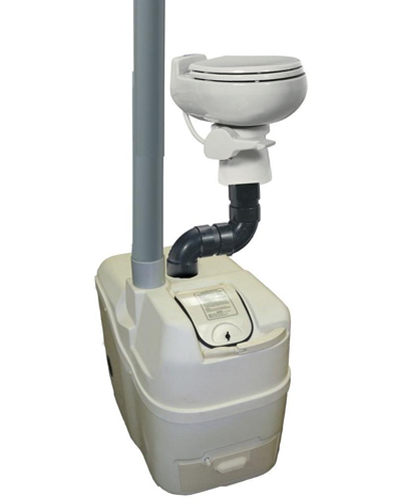 4.6/5
Pros
Very large capacity
Waterless
Non electric
Cons
Sun-Mar has made the Centrex 1000 NE even better by upgrading it's composting functions. They improved the compost flow of both input and output doors. Whenever it's time to extract some compost, that's the time the output door opens when the drums rotate.
One of the cool things about this product is that you have options for dry or water toilets; there are options for electric and non-electric use. The benefit of using this system is you can install more than one toilet per Centrex unit.
Other changes that come with the upgrade was a larger finishing drawer, which makes it a lot easier to access during maintenance, and also a redesigned access port, which is then secured by a catch. Upon purchasing a Centrex 1000 NE, it usually doesn't come with a fan, but if you want, you can opt in to do so.
All of the products in the 1000 series comes with a drain hose that is then connected to a one-inch drain at the bottom left corner of said product. This allows the product to drain any excess liquid that might accumulate inside the composting pit, maintaining the moisture.
You have to periodically remove the compost the heating unit/vented fan is not so efficient, this has to be installed to remove evaporating liquid and odors.
Sun-Mar is solidifying their position as one of the top providers of commercial composting toilets in America by dominating this list. This product is capable of high intensity composting, equipped with a bio-drum that is easy yet efficient to use – this design has already been proven to be very effective all across the Sun-Mar products.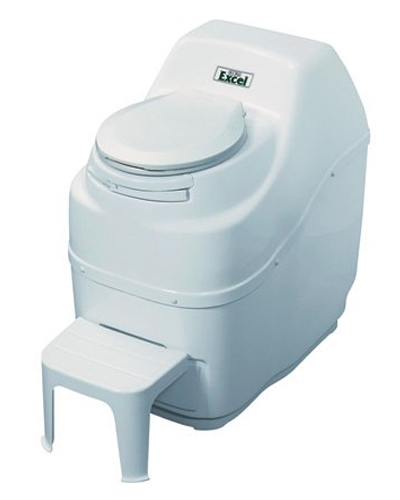 4.5/5
Pros
High capacity unit
100% pollution free
Comes with Vent kit
Cons
The Excel was one of Sun-Mar's first ever self-contained composting toilet that has met the standards set by the National Sanitation Foundation or NSF. Getting an NSF certification will always be a great achievement for manufacturers. A product is subject to 6 months of constant and high use without it getting damaged, not producing any odors, all while producing a nutrient-rich and hygienic compost.
The toilet has an electrical heat and vent fan; it can evaporate all liquids, so it handles the liquid waste very nicely. It is higher than a standard toilet to make it more comfortable.
The self-contained products from Sun-Mar are the only products in the market that has been listed by the NSF to be suitable for cottage and residential use, garnering the standard#41 which means it's one of the toughest and most efficient performing composting toilet in the market.
There is a vent measuring at two inches that are attached to the top of the Excel. The users have the option of installing the vent out of sight by running it through and up the wall. This toilet has a footrest which can be removed to allow you to remove the finishing drawer.
The vent system is cheap as it doesn't fit well and has heavier stinks; another major drawback is the drum handle is too small and flimsy.
The original sun-mar composting toilet was invented by two sailors, and it should be fitting that they make another one that's well suited for the boat and mobile life. This self-contained composting toilet doesn't require you to put much effort into changing containers, emptying urine containers, and all that as it does it by itself.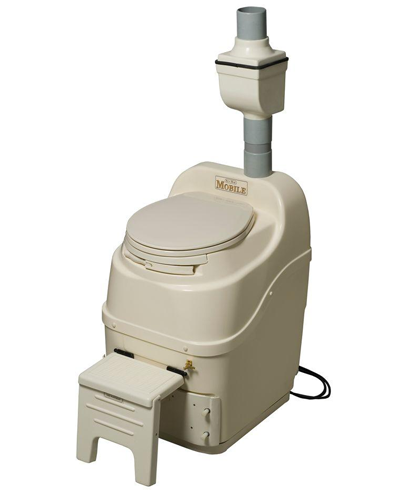 4.5/5
Pros
Activated carbon filter
Very compact
Great option for boats
Cons
The potty like design is not good
This is the first product that Sun-Mar has designed specifically to efficiently recycle waste on board ships and boats and even in RV's or recreational vehicles. With this product, you don't have to deal with chemicals to clean toilets and pumping out of wastes, as this product does it all by itself effortlessly.
The vent includes a 12-volt fan just to keep the air circulating; this is specially designed to run continuously when you use the toilet.
If we're talking about design, this product is utilizing the Sun-Mar's three-chamber system that would allow the product to do some interesting adaptations. In order to guarantee that there were no liquid wastes spilling out onto the deck during rough movement, the finishing drawer must be gasketed.
One special feature of this product is that the drum is designed to be upright at all times, even with rough seas, and road conditions.
This product is equipped with a four watt twelve volt fan which is installed inside a fan box inside the vent stack. The fans only operate when the toilet is in use, and that's because of the unique situation boats and RV's are in power wise.
Installation is not that easy for this product, you may need some help if you're not that the handy man type.
As you might already realize, Sun-Mar has been dominating this list, and it's no surprise. The products that they are making are outstanding when it comes to quality and efficiency, and this product is no different than their past ones.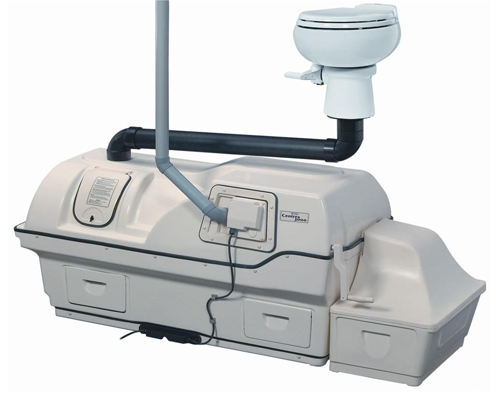 4.4/5
Pros
High decomposition rate
Continuous flow design
Volume capacity of 9 adults
Cons
The Centrex 3000 uses a design where constant air is flowing through the vent, which makes this product great for heavy use whether it be residential or for cottages.
With the effect of the continuous flow system, the drum continues to rotate and moves the compost into a series of bigger and longer drums. After that, the compost then drops into the collection tray at the very end of the unit.
When it's come to the design it will be a durable and long-lasted design in which the user can use this for a long period.
The CCEB-02520 Centrex 3000, and all other products in this series boasts a 370-watt heater that is thermostatically controlled to adapt to the changes of temperature in the compost container.
The heater is located below the unit inside a sealed compartment, installed with a couple of other standard fans from Sun-Mar. A 2-inch 30-watt turbofan and a two inch vent stack.
When you're looking for the size it is not compactable so the person who's looking for a dense design this product is not for them.
Things to Consider When Buying a Composting Toilet
If you're still having troubles deciding on what product to get even after going through that list, then you might want to read on to figure out what factors to look out for in choosing the best composting toilet for your needs.
Before you head into buying a product, have complete knowledge about the working process of composting toilets, the different ways of use and its benefits.
Can a composting toilet be used on RV, boats, cottages, or tiny homes?
The simple answer is yes, but a more complicated answer would be no.
When it comes to dealing with composting toilets, there are a lot of complications and factors to consider. It may sound tricky and complicated at first, but the more you read on, the more you'll figure out why. Basically, the answer would depend on your situation. There are other composting toilets out in the market that are made specifically for traveling and would function poorly if you put it in a house.
While most people who purchase composting toilets want it for their environmental and gardening benefits; a mobile-ready composting toilet is different. A travel-ready composting toilet is much more focused for convenience rather than recycling of waste, often powered by internal batteries, and has the ability to be recharged for maximum efficiency.
Climate Considerations
In composting, there are a lot of factors to be taken into account. During the composting process, there is a specific type of heat that gets emitted from microorganisms while hard at work. Although they create heat on their own, the temperature inside the container will still matter and will help them even more in their work to convert wastes materials into fertilizer.
Just like us humans, microorganisms will have a preferred temperature that they can strive in to multiply and work efficiently. A colder climate will halt the growth of this microorganisms and as a result, will also halt the conversion of fertilizer. As long as the temperature is optimal for the microorganisms, specifically at fifty five degrees, then they will continue to thrive and work in converting waste materials.
As long as your home doesn't go below that optimal temperature, then your compost should turn out fine wherever you situate your composting toilet.
Some people who buy composting toilets don't have a consistent supply of water and electricity, especially to someone who's living off the grid, recreational vehicles, boats, and more. That's why its best to consider where you would put that composting toilet before even thinking about purchasing one.
And whenever the temperature dips down below the optimal amount, you need not worry. Because once the temperature returns to it's a normal state, the microorganisms will pick up where it left off. They're basically just hitting the pause button whenever the temperature drops. If you're in a constant temperature of 50 degrees and below, the conversion would take an extended amount of time to happen and will need to be maintained more. In some cases, the wastes don't even complete its conversion process and fail to become compost.
Does it meet zoning requirements?
Different places will have varying rules and laws. And no law can apply internationally, so it's best to check your building code that is set by your country and states. With just a simple google search, you'll have the information you need, so there's no reason for you not to know.
Some countries are so strict when it comes to composting toilets that they require one to have an NSF certification, which only a handful of products have.
Arming yourself with the right information may help you heaps of trouble in the future.
Bulking Material for Composting Toilets
Some composting toilets that are available in the market require you to make another investment in the form of bulk materials. A bulking material purpose is to be mixed with the solid wastes on your composting toilet, which helps in tearing the solid wastes apart, allowing some much-needed air and oxygen to pass through the waste materials, in which it greatly improves the conversion process.
Before you even decide to buy a bulking material, make sure that you consult with the manufacturer or where you've gotten your composting toilet to avoid damaging it by using the wrong materials.
Can I use a tissue on composting toilets?
Standard house composting toilets are not picky when it comes to toilet paper, they can easily break it down and add it to the compost, while RV or any travel ready composting toilet may require a special kind of toilet paper.
If you're concerned about you throwing your toilet paper in your compost, then you can get a composting toilet paper, which effortlessly breaks down during conversion.
One thing that you should never throw on a composting toilet, however, are feminine products as they don't break down completely or quickly enough that it will affect your storage space, and sometimes may cause you trouble during maintenance.
Urine-Diverting or not
Composting toilets need a good amount of moisture in order to do their job effectively, and to reduce odor. There are two methods that manufacturers have come up to solve this problem, One is a urine-diverting system and the other is not. Let's take a better look at both.
Urine-Diverting – A urine-diverting toilet has a different structure compared to one that isn't. In this system, the urine is diverted into the outlet where it then gets released into a disposing area, such as a container or a drainage system. That allows the compost to retain and have a consistent amount of moisture to it.
Non-Diverting – How a non-diverting system does this is simple. Once both waste materials are in the composting chamber, the process of separation begins with the use of a mesh or a screen to separate them from each other. While more advanced toilets utilize the heat and the air to get rid of excess moisture.
Final Words
All in all, getting the best composting toilets is easy as long as you follow our in-depth buying guide
above. This makes your experience with composting toilets, especially for first-timers, a breeze.
If you have any questions or clarifications, feel free to shoot us a message or leave a comment. We'll get
back to you as soon as we can.
Disclaimer: If you purchase any products in this post, we may receive a small commission. We promote only the products which we test and recommend. Read our affiliate disclaimer here.