As the population of the world balloons to astounding heights, so too is the demand for household essentials and facilities. Although the population has increased, the land that's available to us still remain, and as a result, housing units have decreased in size to allow more housing units to be built. Even with a significant budget, you'll still have a hard time looking for a place that is spacious enough in notable cities; the current trend right now is close-packed living spaces.
People are looking for ways to maximize the space that they're given, and as the trend of compact living spaces continues, the more in demand compact bathroom essential items are. One of the primary concern when it comes to dealing with small bathroom spaces is how to install every essential item, such as a shower, sink, and toilet, in a way that doesn't sacrifice too much of your comfort.
Best Overall Corner Toilet
(NoHasslePulmbing #1 Choice)
5/5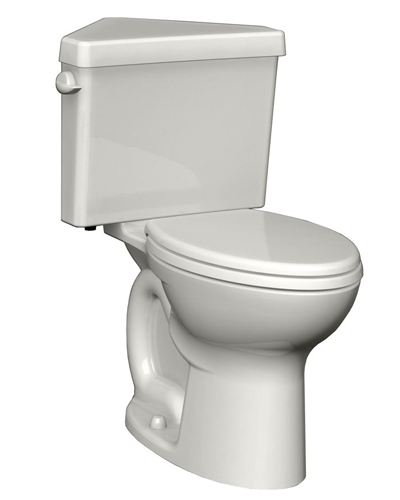 ADA Elongated Shape
3″ Flush Valve
Antimicrobial Surface
Vitreous China Construction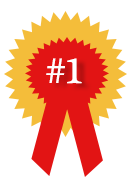 Manufacturers have recognized the ever-growing problem of having limited space on your bathroom, and have created an innovative and alternative solution to compact toilets, and that is the corner toilet. A corner toilet allows you to efficiently maximize the space that's available to you, while still providing the comfort, functionality, and efficiency of a standard toilet.
If you're in the market for a corner toilet but is confused on which to get because of the many options available in the market right now– this article might be of help to you. We have scoured the market and compiled a top 10 list of the best corner toilet available in the market right now, in the hopes that it points you to the right product for your toilet needs.
Table: Top 10 Best Corner Toilets
Best Corner Toilet – 10 Products Reviewed
This two-piece triangle-shaped toilet makes simplifies installation and makes it easier. It's equipped with an elongated bowl to give you that much-needed comfort while utilizing the limited amount of space given to it perfectly. Not only is this toilet capable of saving you space and giving you comfort, but it is also capable of efficiently flushing away wastes without using too much water.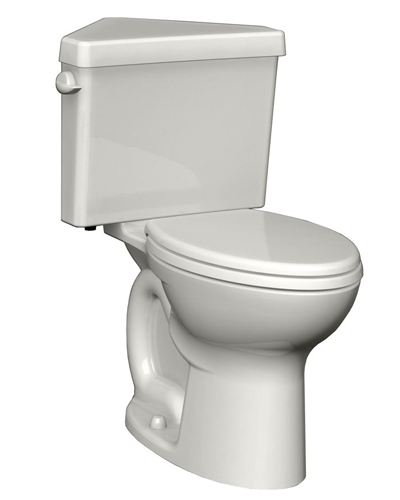 5/5
Pros
Unique design
Flush works well
Made of durable glassy
Cons
And that's because of the 3-inch flush valve that this product has, allowing a lot of water to flow simultaneously out of the tank and into the bowl. And even with those oversized valves, it is still surprisingly water-efficient, only using 1.6 gallons of water per flush.
In addition to those functions, this product is also equipped with American Standard's EverClean Surface system. Which helps the product stay clean for as long as possible, even without maintenance. The circulation pipes are also integrated with this technology, covering them with a permanent glaze that would prevent mold, mildew, fungus, and algae, which are the main offenders in pipes deteriorating faster, to stop developing and forming.
The major advantage of this American Standard 270AD001.020 Cadet 3 is its unique design. Its revolutionary ever clean surface protects the toilet from stain and odor-causing bacteria and mold. So you don't have to worry about the infection.
EverClean also gives the toilet that shiny and smooth finish, which makes it easy to clean and maintain, even after several years of using.
This product has a standard rough-in of 12 inches, which is the same across the board of any standard toilet and is made out of Vitreous china. Which is just porcelain but is covered with ceramic glaze during the heating process to make it even stronger and more durable.
The one issue that we've found in this toilet is its sides which attract the dust easily, so you put more effort to clean that. Other than it is the best one on our list.
The second product is another iteration of the Cadet 3, which is manufactured by American Standard, one of the most trusted toilet manufacturers in the market right now. Its smart design would no doubt let you save that much-needed bathroom space while having that efficient and powerful performance that you need in a toilet.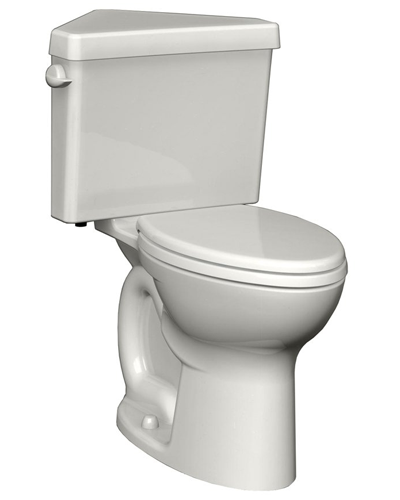 4.8/5
Pros
Compact size
Strong flush
Triangular tank perfectly fits in all corners
Cons
This product is a two-piece toilet made out of Vitreous china, a stronger type of porcelain, giving your toilet that much-needed durability and sturdiness, while looking sleek and super-smooth. American Standard has equipped this toilet with EverClean technology, giving it anti-bacterial properties to combat the forming of mold, mildew, fungus, and any odor-causing bacteria, while its smooth finish also allows for easier and better cleaning.
Its elongated bowl offers more comfort and space for the user compared to a standard rounded bowl. In a corner toilet, an elongated bowl is a way to go rather than a rounded bowl, because of the way a rounded bowl more has more width, and your toilet is up against the corner, it'll consume some much-needed leg space.
If you are facing water issues in your area, you don't have to worry about the problem. This American standard 270BD001.020 Cadet 3 corner toilet is a perfect choice. It requires only 1.6 gallons of water per flush so you can save the water by using this corner toilet.
The flushing mechanism of this toilet is nothing to scoff at. With its 3-inch flushing valve, water can effortlessly flow through it from the tank, and into the bowl with a significant force that can flush out any waste material effortless, while only using 1.28 GPL, gaining it that WaterSense label.
It's designed to be at the most accessible height, allowing people who have physical problems, and for kids to easily use the toilet. The only downside when you purchase this product, is that it doesn't come with a toilet seat, and will be needed to be bought separately, but other than that, this toilet will always deliver when it comes to functionality and efficiency, and will pay for itself by allowing you to save more money on monthly water bills.
It doesn't have the toilet seat, so you have to spend money for the class seat. If you are adding the seat, the toilet occupies more space when compared to the normal one.
A stylish and sleek corner toilet manufactured by The Renovator's supply. It's a well designed and equipped corner toilet that would be a great addition in your bathroom. This company has its focus on providing space-efficient and yet fully functional bathroom essentials, while still being affordable. And they have been doing a great job for quite a while now.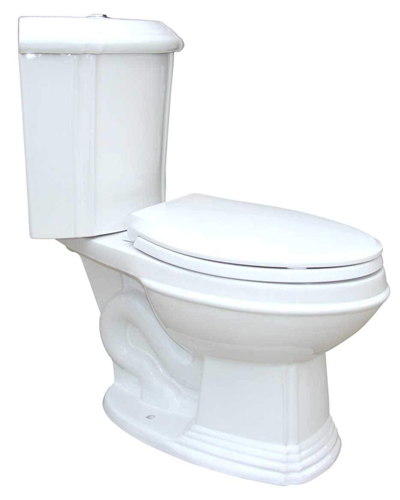 4.7/5
Pros
Sleek design
Stain and scratch resistant
Comfortable and easy to clean
Cons
This product is a testament to their dedication in the craft. It's designed with an elongated bowl that's meant to give you more legroom and more comfort when using the toilet, while still taking the same amount of space a rounded bowl toilet does. It's equipped with a dual flush system to allow you to conserve more water and as a result, save money on water bills.
It has met the EPA standards for water conservation, only using about 0.8 gallons of water per flush when using the soft flush button, which is meant to flush out water wastes – and only using about 1.6 gallons of water per hard flush, for solid wastes. Saving almost 25,000 gallons of water per year.
It is made of durable grade 'A' glass and the Reno glass and the white finishing of the toilet fully scratch and stain resistant, so you don't have to put more effort for the cleaning process.
The toilet has a modern look to it, making it a great addition for people who are aiming for a more minimalist style with their bathrooms. This product is made out of porcelain but is then strengthened even more by applying a ceramic glaze on it during the healing phase, so it's quite durable, while also giving it that smooth and sleek exterior look.
It has a dimension of 30×17.25×29 inches, so it doesn't crowd an already tight spaced bathroom. This corner toilet is perfect for those who are looking for an efficient and highly functional corner toilet while on a tight budget.
The installation process of this toilet is a little bit difficult because this toilet doesn't have bolt covers and floor bolts. And also, its lid doesn't fit properly.
If you're looking for a reliable and efficient fixture to fit your bathroom's limited space, then this product made by Renovator's Supply would be it. It comes from a reputable brand and manufacturer that never fails to deliver on the quality of their products, while still being reasonably priced.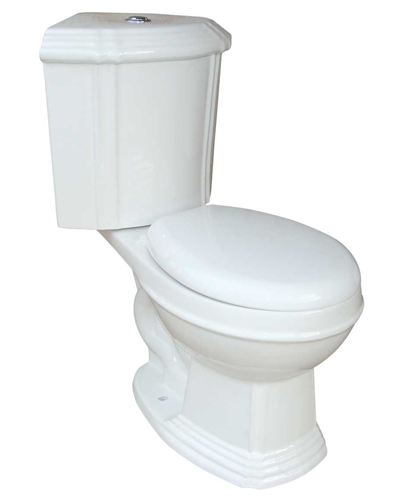 4.6/5
Pros
Easy to maintain
Increases the lifespan
Dual flush technology
Cons
Plastic seat and seat cover
With this product's color scheme and overall look, it will have no problems matching whatever theme you have in your bathroom without standing out or sticking out.
Now on to the toilet's functionalities. It's equipped with a powerful dual flush system that only utilizes the bare minimum amount of water to efficiently clean and removes wastes from the bowl. The system allows you to choose two different options when flushing. If it's liquid wastes, then a soft flush would do, only using about 0.8 GPF, and when it's solids, you'd have to go for the hard flush, which utilizes 1.6 GPF.
It is the best space-saving corner toilet when compared to the other models on our list. If you have a small space, so you don't have to worry this is the best choice to install.
It's made out of very strong and sturdy porcelain that can withstand triple its weight, and also has a very accessible bowl height, somewhere around 16" inches from the floor, making it accessible for disabled or heavy persons. Not only is this product a great addition for your apartment or tiny house, but it's also great for commercial use.
Its rounded bowl design makes it a perfect addition for narrow bathrooms as opposed to elongated ones. Which also allows you to distribute your weight evenly and properly to avoid stress on your body when using the toilet.
Installation of corner toilets can be hard, especially if your old toilet is a standard one. So you might need to ask the help of a professional plumber to get everything set-up correct. Because without plumbing, this product can't function at all.
This White Ceramic Round Space Saving Dual Flush Corner Toilet has one issue that is its lid is too large for the bowl. And its flapper can easily break.
This is yet another product from the Renovators Supply, and it's no surprise. They are always improving their products, the design, and function, while still keeping it reasonably priced.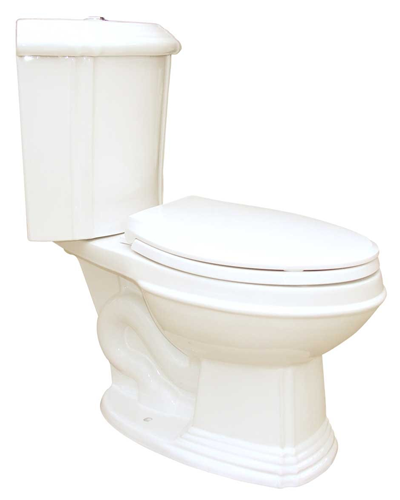 4.8/5
Pros
Save more space
Valuable stylish toilet
High quality construction
Cons
Height is not comfortable for everyone
This product is made out of bone china, which is another type of porcelain which is composed of bone ash, kaolin, and feldspathic material, which makes the product very durable and sturdy, and resistant to scratches and stains. In the construction world, bone china is a rare and valuable material.
This product would be a great addition to any bathroom not just because of its design, but also the features that come with it, as well as it's reliability. it's neutral color allows it to blend seamlessly into any design or theme that you have going in your bathroom.
It has an elongated bowl which opens up a bit more room compared to a standard rounded bow toilet. But that's not the only advantage of having an elongated bowl, but it also gives the user more space to sit on, and the height of this toilet makes it very convenient to people of different age and sizes.
The unique feature of this toilet is its polished bone ceramic finish that helps to keep your toilet good, clean, and clear. And also it is an additional decor to your room.
Because of its scratch and stain-resistant properties, cleaning and maintenance don't require much effort. Even after constant use for years and years, it'll still have that shine that porcelain would normally have.
When it comes to flushing, you have two different options: a soft and hard flush. That's made possible because of these products dual flushing design. A soft flush is used to clean and wash away water wastes, only utilizing about 0.8 gallons of water per flush, while a hard flash is meant to get rid of solid wastes, using only about 1.6 gallons per flush. That water usage is very efficient compared to some standard and traditional toilets out in the market, and that's why this product has its WaterSense label.
For homeowners out there looking for that perfect fixture for their bathroom, with a low to mid-range budget, then this product might be it.
Some people complaining about the seat of this toilet. It is not made perfect, and also it is not comfortable for taller people.
If you're in the market for a space-saving corner toilet, one brand that you can rely upon its efficiency and design is by Renovator's Supply. The number of products in this list that are made by them are testament enough to the quality of their product.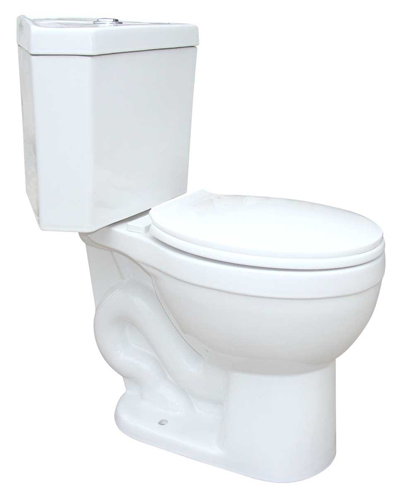 4.5/5
Pros
Porcelain framework
Reliable and elegant design
Perfect choice for small space areas
Cons
Doesn't include floor bolts or covers
This specific model is a result of the combined experience and advanced engineering of the people at Renovator's Supply. This product allows you to save that much-needed space in your bathroom while being equipped with the functionality and efficiency of a premium quality toilet at a very reasonable mid-range price.
If you have limited space in your bathroom, or just looking for that clean aesthetic with a corner toilet, this toilet would be the one for you. Carefully and expertly crafted to fit in every corner while still leaving enough space for other fixtures to be added. This toilet is rounded which makes it a lot more compact than an elongated one, it's trade-off though is that it takes more of your leg space.
If you would like to buy white fixtures, it is the best choice to buy. It is the best bright shades toilet which is available in today's market. And its porcelain finish creates a bright and shining look to your toilet room.
The color of this product is a shade of white that is hard to come by in the market, but still neutral enough to fit it on almost bathroom themes, perfect for those people who love their aesthetic. This toilet is made from porcelain, which gives it that smooth and bright finish. The gloss finish gives this toilet anti-scratch and anti-stain properties even after years of constant use.
It has an accessible height of 15 inches, which is standard chair height. Allowing elders, and kids to easily use this toilet without much assistance.
The major disadvantage of this toilet is its seat. The height of this toilet is very small when compared to the other competitor.
One of the products of American Standard with it's patented Triangle Cadet PRO design, making this toilet one of the most practical, functional, and efficient toilet, coupled with a clean and sleek design that will fit in every bathroom with ease. The innovative Triangle Cadet PRO design allows this toilet to be perfectly situated in tough-to-fit bathrooms, easily fits into small and limited spaces, all while experiencing the comforts provided by its elongated bowl.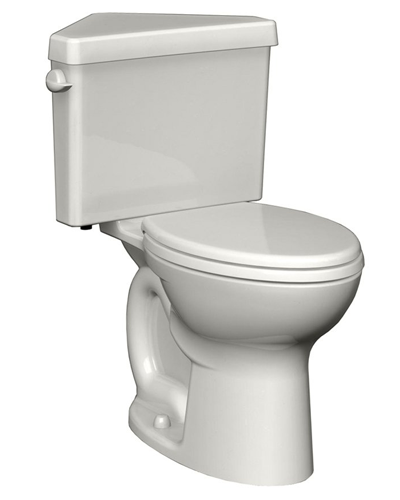 4.6/5
Pros
Prevent clogging
Cadet flushing function
Durable and long lasting
Cons
No color options available
This toilet is equipped with comfort height, which means it's higher than an average toilet. Elevated at 16-18 inches above the floor, it gives people who have physical disabilities or elders to access and use the toilet easily, making it ADA compliant. So if you're looking to replace your work or home toilet, this product would be a perfect choice.
The markable feature of this American Standard 216AD004.020 Toilet is its convenient seat. It measures 16.5 inches, which is very higher when compared to the other models on our list. It is the best choice for the eldest people and physically disabled persons.
On top of being ADA compliant, it also is WaterSense labeled, which means that it uses about 20% less water compared to a standard toilet. And that's because of the Cadet Flushing System, only utilizing about 1.6 gallons of water per flush. You might think that with that little amount of water, it wouldn't clean the toilet bowl effectively, but with a large flush valve and trapway, it gives this product a powerful and effective flush, that won't clog the toilet easily.
Other features of this product are the following:
* Cadet Flushing System
* Made out of Vitreous China
* Patented tank design
* PowerWash
* EverClean technology which prevents mold, stain, and any odor-causing bacteria to develop.
It designed with molded sides that can absorb dust quickly, so it easily becomes dirt full. You can put more effort for cleaning process other than, it is one of our best toilets.
This model from Renovator's Supply is one of the most compact toilet available to consumers in the market right now. It's specifically designed to save space while still having the functionality and features of a high-quality toilet. Everything feature is tightly packed into that single piece of the compact toilet.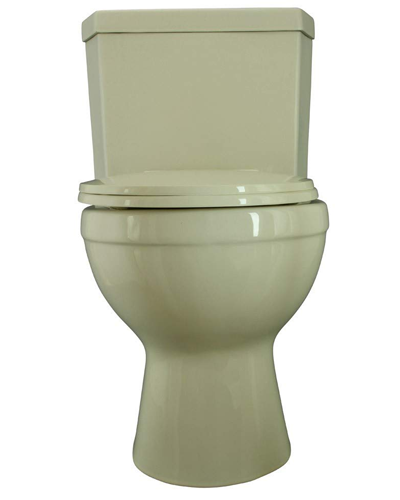 4.5/5
Pros
Small and elegant
Best choice for small room
Water and money saving toilet
Cons
Here are its specifications:
* This toilet has a dimension of 29 x 17.25 x 30 inches
* Comfortable seat height
* Standard 12 inches of rough-in
* Vitreous china finish
* Dual-Flush
Its size allows it to work with whatever available space your bathroom has while still being able to function properly and efficiently, while effortlessly blending in with the theme of your bathroom because of it's a simplistic yet elegant design. Speaking about the design, this toilet has an elongated bowl which is great for providing comfort to the user.
Its polished ceramic finish and the Reno glass finish both are works well and, it is scratch and stain-resistant, so you don't have to spend more time to clean this toilet.
In addition to the comfort factor, one that should not be ignored is the height of the toilet. The height of the seat of the bowl is exactly 15 inches above the floor, making it a bit higher compared to the other standard toilets. And that design is called comfort height, which means it's a lot accessible to people with disabilities or elder, and overall for comfort.
But the most notable feature of this toilet would be the dual flush function, which has two separate options. A soft flush, utilizing 0.8 gallons of water per flush for liquid wastes, and a hard flush, using 1.6 gallons of water, for solid wastes. And thus, making this product one of the most economical and water-efficient in the market.
If you are a color chooser, then it is not perfect for you. The color finishing of this toilet is not that much brighter.
There are different variants for this model, you can either get a one-piece or two-piece design depending on your bathroom needs. But no matter what variant you get, one thing is for sure, that this product is built for higher performance while minimizing clogs, all for a reasonable price.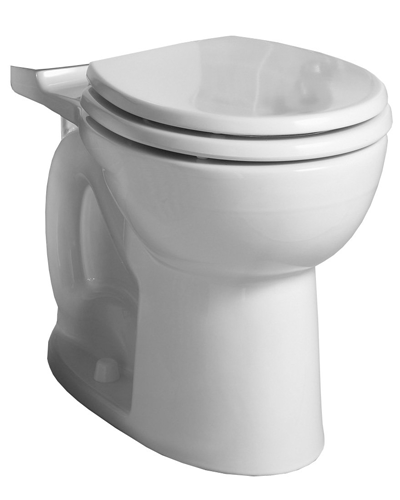 4.5/5
Pros
Excellent performance
Doesn't break easily
Only requires 1.28 gallons water per flush
Cons
The Cadet 3 is a versatile and flexible series from American Standard that offers you tons of different customization and options for your bathroom needs. Other than the one and two-piece sets, you can also choose bowl design, either rounded or elongated.
Although there are different styles, all of them are equipped with a water-efficient flushing system, only using about 1.28 gallons of water. That's significantly lower than most commercial toilets out there, and that's why this product has earned a WaterSense label, which means it consumes 20% less than the standard toilets.
The Flowise technology of this toilet works well with the trapway that helps to pulls the wastewater inside the bowl. And the cleaning process also very simple it doesn't take too much of time.
And that's because of the siphon jet system. The tank releases huge quantities of water while the siphon in the bowl sucks it out, creating a powerful flush while only using less amount of water, it's also thanks to the wide 2-1/8" tramway that allows the water to pass through effortlessly, also avoiding clogs.
Be informed though that the tank is sold separately, and this product review is just for the bowl.
This toilet doesn't come with a tank and, its bowl is too small so it may get clogged sometimes.
This toilet is made out of vitreous china, which is a ceramic glaze added elegant look to the toilet. It gives the porcelain a shinier and smoother finish while making it durable. It resists stain and makes your cleaning process as simple.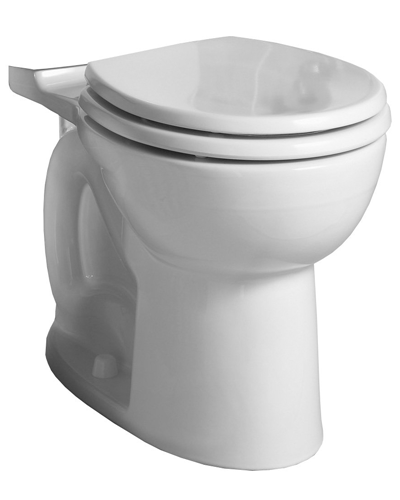 4.4/5
Pros
Easy to clean
Occupy less space
Doesn't take a lot of water
Cons
Its tiny holes allow the water to come down fastly. It only comes with a bowl which occupies less space in your toilet room. So you can easily maintain the room without any disturbance.
It made of high-quality materials; it will last for a long day. So you don't have to worry about the quality of the toilet, it doesn't break easily.
It also has EverClean technology, which is a technology from American Standard. EverClean surface diminishes the chances of any mold and odor-causing bacteria to form, while simultaneously making it easier to clean.
Be advised that this review is in regards to the toilet's bowl only, and if you do decide to purchase this, you would have to invest in a compatible tank to install this bowl in, preferably a product from the same series from American Standard.
The main issue that we've found in this toilet is it doesn't have a flush tank and, the small holes may clog easily.
Factors to Consider in Buying a Corner Toilet
A toilet has several names, but no matter what you call it, at the end of the day – a toilet is one of the most essential things to have in your home. It's a place where you have your vulnerable moments – so ensuring that you have the one that suits your tastes the most is imperative.
But it's hard to do your business on a cramped up bathroom with so little space to move. And that's why manufacturers and companies have started to make a move to meet the demands of people who're in such a situation and thus coming up with corner toilets.
If you're in the market for one, this buying guide might be of help in pointing you to the right product.
There are several key factors and benefits that need to be considered when browsing around the market for the best corner toilet. Paying attention to those details would mean getting a sub-par corner toilet to a great one.
Dimension
If you only have a limited space to work with on your bathroom, then this factor should be the main focus. One thing to keep in mind in checking out corner toilets is that, every single toilet has different dimensions, and that you need to be careful in choosing one. It may have the functionalities and qualities that you need, but you can't even utilize them if it doesn't fit in your bathroom. Because you can't just install a toilet anywhere, especially where there's no septic tank, the waste would have nowhere to go.
Toilets are made with differently, depending on what it's secondary purpose is for. Some are made to fit tight and compact spaces, while others are bulky and large to add aesthetic to the bathroom.
Another thing to consider is, where are you installing it? Are you buying a corner toilet for a boat, an RV, a camper van, a cabin, and etc.,
Before even going around shopping for a new toilet, measure the dimensions of your bathroom first, decide where to put your new fixture, and then you can go look.
Water Efficiency
Climate change has been a problem for a long time now, and we're currently in an all time low. Clean water is already hard to come by, so we must do everything that we can to help, and one way of helping is not contributing to the problem even more.
Technological advancement has made our lives better, but it comes with a price. With all the waste materials that we're creating, it damages the planet furthermore, and it's not different with wastewater, which needs an enormous amount of energy to treat, which isn't good for the environment. One more obvious reason to go for a water-efficient toilet is the water bill. The lesser the amount of water you use, the lesser your bill will be, it's as simple as that.
There are many toilet brands in the market that are making water-efficient designs. Utilizing only a minimal amount of water, but still gets the job done better than other toilets by increasing water pressure, or utilizing gravity.
You can also go for models with dual flushing technology, allowing you to choose the appropriate flushing option to get rid of your waste whether it's solid or liquid.
Seat Height
Something as minor as seat height can make all the difference when it comes to comfort. If you have kids in your household, then getting a toilet that's higher than the standard wouldn't be ideal, but if you have elders, a higher toilet seat would be better.
Surface and Material
If you're getting a corner toilet, that means you are in for a long ride. If a corner toilet gets taken care of properly, then you won't have to be worried about replacing your toilet for another ten years. The durability of a corner toilet, or any item in general, would depend on the materials used in making it. For example. A toilet that is made with Vitreous China would have no problem reaching that ten-year life span.
Besides focusing on the materials that are used in creating the toilet, there are other toilets in the market that has their surfaces coated with anti-bacterial properties, reducing the chances of mold and the likes from forming, while also preventing other wastes from sticking onto the surface.
The toilets that have this function are marketed as "self-cleaning" because of its ability to maintain and clean itself through flushing.
Flush Power
In the past, it's understood that a smaller a toilet is, the weaker its flushing power is. But that's not the case anymore – technological advancement has allowed manufacturers to innovate further in their design, allowing for more bolder and better toilets.
There are corner toilets with different flushing types available in the market right now that's compact in size but deliver quite a powerful flush, while still being water efficient. The secret to that is the water pressure of the system.
Some utilize the help of gravity to create a more powerful flush – the flush valve releases the water from the tank with force, usually covering 360 degrees of the bowl, and employ the help of gravity to further increase the power of the flush.
Some toilets use siphon jet flushing systems. If toilet bowls are made to utilize siphon jet systems, then the bowl is usually created with a molded pocket situated at the front of the bowl that'll hold water until it's time to flush. And if a flush is initiated, the vacuum or siphon system sucks all the water out from that pocket, increasing its pressure and power for more efficient cleaning.
Final Words
A corner toilet may not be as popular as the other type of toilets, but if you have a small house and bathroom space to work with, then it can be very useful. The way it's installed diagonally gives you that ample space that you need, allowing you to be comfortable in sitting even in cramped spaces.
Every single function and feature of a traditional toilet can also be found in a corner toilet. All that's needed is to look for it with the help of our guide.
Unknowingly we all are doing certain hygiene mistakes while using bathroom and toilets. Hopefully, our tips have brought you some awareness about the cleanliness of toilets and I'm sure our guide has taught you some things that you can use in deciding what and which corner toilet to get.
Disclaimer: If you purchase any products in this post, we may receive a small commission. We promote only the products which we test and recommend. Read our affiliate disclaimer here.