Try to imagine living your day to day life, except without flushing toilets. Seems impossible, right? Well, it certainly wasn't back then as toilets were only invented during the 20th century. Once the toilets saw popularity, the modern sewage system then followed. The idea of and the ability to effortlessly remove waste grew so popular during the times that right now, every establishment and home has a toilet.
Best Overall Flushing Toilet
(NoHasslePulmbing #1 Choice)
5/5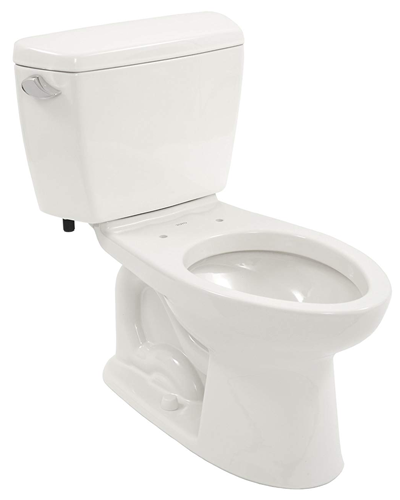 Wide 3-Inch Flush Valve
G-Max Flushing
Large Water Surface
Contemporary Design
And if you look at today's modern toilets, there are designs and features that you would have never thought possible before. And it's completely understandable, as time progresses, so too is technology. We want only the best in our lives, and that includes our toilets. But scouring the market for the best flushing toilet can be a tedious process because of the many choices that are available to you right now.
To aid you in searching for the best flushing toilet that you can find in the market, we have taken into account the different factors of different toilets such as size, type, functionality, and more, to find out whether it'd be a perfect fit for your bathroom or not.
Although this review and list are all about the strongest and best flushing toilet available in the market, we made sure that to take into account the different features and unique design that some toilets have to offer. And with that, we present to you the best flushing toilets in the market!
Table: Top 10 Best Flushing Toilets
Best Flushing Toilet – 10 Products Reviewed
This product is designed and manufactured by the worlds leading manufacturer when it comes to bathroom essentials. TOTO is famous for its simple but innovative design and solutions for basic human needs.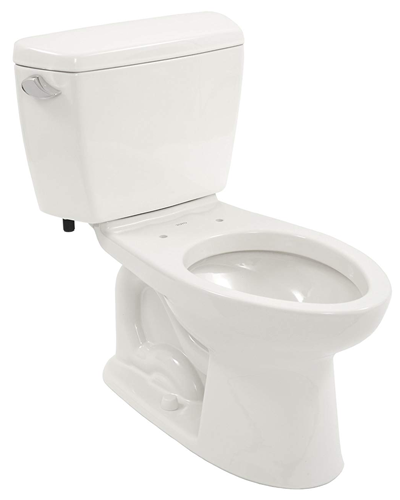 5/5
Pros
Uses G-max flushing
Sleek design
Has 3-inch flush
Cons
TOTO is always the one leading the pack, always coming up with innovative, refined, and clever ways to deliver those technologies to make your lives better. Every single design and detail is made with the users in mind, to deliver the best comfort and functionality, and it shows with this product, the TOTO Drake Elongated Bowl and Tank.
This product offers a powerful and durable design paired with a classic look, making it a perfect addition for office or home use. TOTO has made sure to only use the best quality material to make this product, ensuring durability and longevity, making this product a worthwhile investment for those people shopping around for a flushing toilet.
Being a two-piece toilet it's easy to install, an added benefit is the high profile tank as well as the high elongated seat as it adds an extra elegance to your bathroom.
One feature that this toilet has is that it's flexible and you are able to customize it. You can either add a soft close seat if you don't want to wake up family members during the night when you accidentally drop the lid, or you could add an electronic washlet bidet seat which cleans your private areas better than toilet paper. The combinations are many, and it's up to you on what suits you best.
Equipped with TOTO's GMAX flush technology, this toilet is already better than half of what's in the market. This product has a wider flush valve, a 125% wider than the traditional and standard toilets, already making this one of the top contenders for having the best flushing technology. And if you add the GMAX siphon jet technology to it, it puts it to the top. The siphon technology that this toilet is using propels the water a lot faster and with more force which will certainly wash all the waste away easily.
It's designed with an elongated bowl, which requires a bit more space, but offers unparalleled comfort when you sit on it. It has a minimalist design with a clean, smooth, and sleek to it that makes this product a lot easier to clean.
If you're in the market for a powerful flushing toilet, then this should be on top of your list.
The toilet is slightly priced when compared to other two-piece toilet of other brands; it's a bit difficult to clean.
The second product on our list is made and manufactured by KOHLER, one of the pioneers in bathroom essentials, leading innovators, and overall produces some of the best quality of items you can find.
4.8/5
Pros
Aquapiston flushing system
Chrome flush trip lever
Water efficient
Cons
The KOHLER 3810-0 Santa Rosa Comfort is a compact one-piece toilet that incorporates the tank into the bowl seamlessly while also making it easy to clean. It has an elongated bowl to give you a better sitting position and overall comfort while occupying the same space as a rounded bowl toilet. It's also designed to have a comfortable height, which means it's made more accessible for those who have physical disabilities and elders by having a slight elevation, a good 17-19 inches above the floor. That elevation makes it easier for those who are in wheelchairs and walkers to be easily transferred to the toilet.
Efficiency is the great benefit for this model as it uses only 1.28 gallons per flush, uses Aquapiston flush engine which allows water to enter from all sides.
KOHLER didn't compromise anything when designing this product, especially when it comes to comfort and flushing power, while still conserving water. It only uses 1.28 gallons per flush, compared to other standard toilets that use about 3.5 GPF, allowing you to save roughly around 16,500 gallons per year, and in turn, saves you a lot of money.
The power of its flushing comes from a perfectly engineered tank, trapway, and a little bit of help from gravity, creating a siphon during flushing, which effortlessly washes down wastes. On top of that, this product is equipped with AquaPiston canisters, which allows the water to flow from every side of the bowl, having a 360-degree coverage, making the already powerful flushing more efficient and effective.
Although installation might not be that great, and you would require to hire a professional, but overall – this product and its features are worth the investment.
Most of the users have a complained that this flushing toilet clogs easily and it requires at least flushing twice to clear all the waste in the bowl.
The third product on our list is manufactured by American Standard, one of the top producers of commercial and residential toilets. They have been around for 140 years, and you don't last that long is your products are sub-par. American Standard has been producing some of the most durable toilets in the market, being able to withstand the test of time, and years of constant use.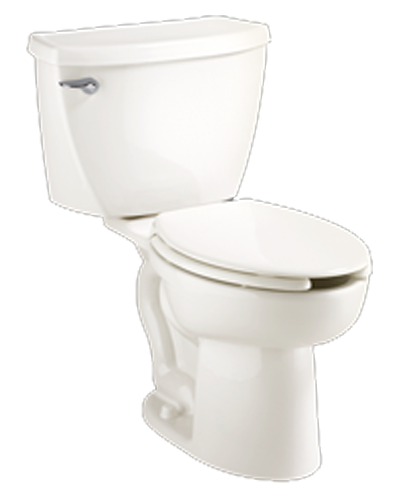 4.7/5
Pros
Easy to clean
Durably constructed
Uses only 1.6 gpf
Cons
Slightly noisier than standard toilets
Their products, and this one, the American Standard 2467.016 Cadet Right Height is made out of vitreous china, which is a stronger version of porcelain. Although the base material used to make this toilet is porcelain, during the heating process, they cover it with a ceramic glaze to make it even stronger and sturdier. Giving this product that sleek and clean look without the need to sacrifice quality, it also makes this toilet a lot easier to maintain and clean.
This product is also equipped with an EverClean surface, which means that it's equipped with anti-bacterial properties that combat the growth and spread of odor-causing bacteria, the forming of mold, mildew, and reduce the probability of staining.
Cleaning is very easy for this American standard toilet as it has an Everclean surface that completely avoids the growth of odor-causing bacteria, mold etc.
It has a bowl rim measured at 16-1/2" for convenience and accessibility, it also has an elongated bowl for maximum comfort, and still doesn't take too much space compared to a round bowl.
When it comes to flushing, this toilet is no push-over. It's equipped with pressure-assisted siphon jet flush action that allows for a stronger yet water-efficient flushing. It uses a carefully engineered device in the tank to push the water through with great force to remove any wastes while still conserving water, only using around 1.6 gallons per flush, that's less than a standard commercial toilet bowl.
Some users says that it may leak this is the only major downside for this product, if leakages occur often it may not be liked by the customers.
The fourth product on our list is another one from TOTO, the TOTO Drake II Two-Piece Toilet. This product has been designed and engineered with the combination of the manufacturers years upon years of experience. Equipped with CEFIONTECT, it's a method developed by TOTO to further strengthen the materials used in making the product, and on top of that, give the toilet anti-bacterial properties, preventing the forming of mold, limescale, and the build-up of waste matter, finishing it off with a smooth and long-lasting finish.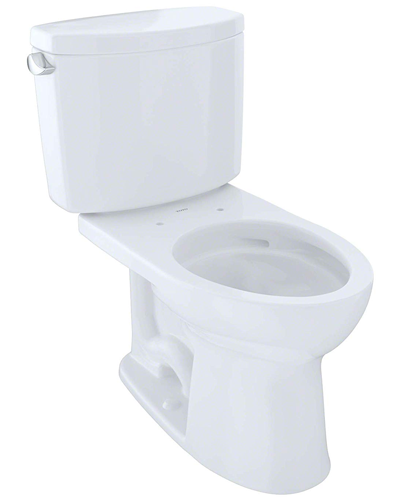 4.6/5
Pros
Variable flushing ability
Comes with dual-flush system
Water refills quickly
Cons
If you have someone in the house who has some physical disabilities or an elder, then a toilet from TOTO would definitely help you in that regard, as most – if not all of their products are comfort height, which means it's slightly elevated compared to standard toilets, a good 2 or 3 inches more. That extra height makes it easier and accessible for those who are in wheelchairs and walkers.
There is a dual-flushing system which removes the liquid and solid waste efficiently; the slow closing lid makes for quieter closing after use.
The Drake II is an upgraded and a much more complete version of the original Drake, which was already considered to have one of the best efficiency and power when it comes to flushing. The Drake II was made to cover those little gaps. It's equipped with TOTO's Tornado Flush design, which is instead of holes, the toilet utilizes two nozzles to create a powerful whirlpool that cleans every nook and cranny of the toilet.
And you'd be surprised to know that it only uses 1.0 gallons of water per flush, that's lower than most commercial and residential toilets available in the market. Being WaterSense and ADA compliant, this powerful flushing toilet is perfect for your office or home use.
Tank cover is placed loosely on the top so there are chances for displacement if mishandled; water sprays all over under the seat because of the bowl design.
TOTO is dominating this list, and it's no surprise because of the world-class products that they produce, and this product is no exception, the TOTO UltraMax II. This product of theirs is a single-piece flushing toilet with an elongated bowl and is designed with their CEFIONTECT technology, which is the embodiment of TOTO's mark of excellence.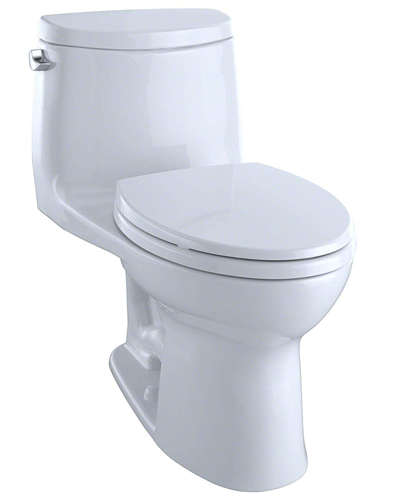 4.8/5
Pros
Quiet flushing system
Has fully glazed Trapway
Has a softclose elongated seat
Cons
Doesn't come with a wax seal
That technology allows this toilet to be bacteria-resistant, making sure that there is no growth of mold, mildew, and waste materials stuck on it, allowing for an easy clean-up during maintenance. This toilet isn't just beautiful on the inside, but also on the outside, it has a classy finish with a minimalist look to it that will surely blend well in your bathroom.
This product is a one-piece toilet holds several advantages compared to a two-piece toilet. One notable advantage is that there are no threats of leakage from faulty bolts and gaskets, and also requires less effort to clean it since you remove the nooks and cranny that dirt and debris might hide.
It's lighter and easy to install which weighs only 99 pounds and a one-piece toilet, the double cyclone flushing system creates a powerful force to clean the bowl.
If you've made it to this product past the other ones, then you'd already know that TOTO's flushing design is impeccable and is always top-notch, and this product is no exception. This product is WaterSense and ADA compliant, which means it's water efficient.
How this toilet flush is that instead of having holes in the rim, it utilizes two nozzles that jets out streams of water that forms a powerful whirlpool that rinses and flushes the bowl thoroughly and efficiently, only using about 1.28 gallons of water per flush – helping you save water and money.
Other notable functions and design that this toilet has are that it's equipped with TOTO's SanaGloss, giving this product a super-smooth finish and a sleek look while also preventing any waste particles sticking to the ceramic. It's also equipped with a soft close seat, for times when you need to be stealthy, and has a comfort height or universal height, making it comfortable and allows for better transfer for people who are in wheelchairs or walkers.
The tank lid is not flat so when you're using it you've to be careful, also the footprint of the toilet is larger than other older toilets.
This product is another excellent one from TOTO. This one-piece round bowled toilet has a standard 12" rough-in that doesn't too much of your bathroom space, it has a minimalist and sleek design which would be a perfect addition to a bathroom.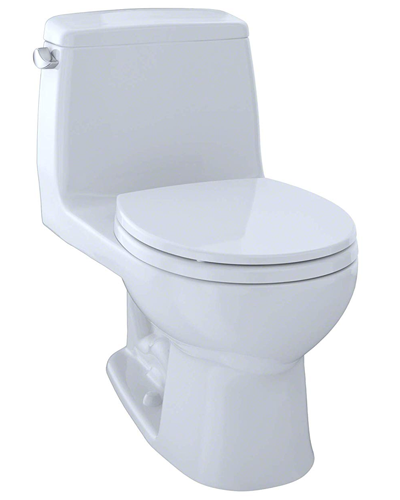 4.5/5
Pros
Larger Trapway
Extra large siphon jet
Flushes quietly
Cons
This product, just like any other TOTO product, is WaterSense and ADA certified, which means it uses less water than standard toilets, but that doesn't mean that it's not efficient in its job. On the contrary, it's the opposite – It's so effective that it only requires a small amount of water, specifically 1.28 gallons of water per flush.
And that's because of it's E-Max design by TOTO, this design sucks the water out with great force while a 3-inch valve releases 1.28 gallons of water with a force that it effortlessly flushes away waste while doing it quietly. Clogging isn't much of a concern with this product as it has a 2-1/8-inch trapway and is glazed to ease the passage of wastes.
The siphon jet pushes everything down with just one flush, the powerful 1.6 gallons per flush draws water into the bowl much faster.
We all dread the toilet seat slamming when we try or after we use the toilet, the loud sound it produces can almost wake a whole neighborhood up. With this product, you won't have to worry about that problem anymore. TOTO's soft close seat is one of their latest innovation when it comes to smart seat technology.
It has an ergonomic design, molded bumpers, and with high gloss Polypropylene which is resistant to any cleaning agents or chemicals. It also has hinges that automatically lowers the seat gently to avoid any injury or the dreaded seat slam.
If you're looking for a toilet that's made to cater to the comfort of the user and functions with efficiency, you need not look further as this product may just be it.
The only downside of this product is you have little to worry about clogging because it may occur often.
This product has a classic and simple design, but it's only the looks. The features of this product are innovative, efficient, and most of all, powerful. Making the Cimmaron a great addition to your bathroom.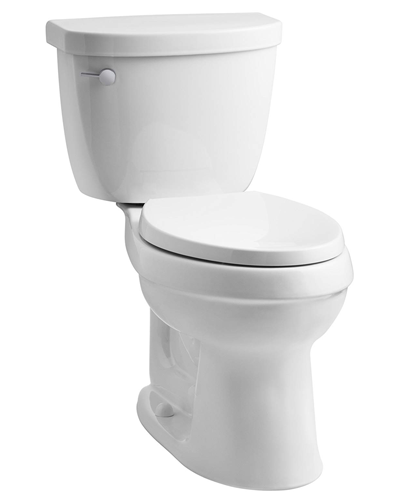 4.6/5
Pros
Comes with a wax ring
Features a small flush handle
Seat closes smoothly
Cons
Plastic flush valve may break easily
The Cimmaron is a two-piece toilet designed by KOHLER to be user-friendly. This product is quick and easy to install, and that's because of the metal brackets underneath the tank. Because it doesn't require you to drill any bolt holes to the tank, the problem of having leaks are a thing of the past.
If you're looking for something durable as well as stable then this may be the right choice, you can feel free to install it in your bathroom.
This WaterSense labeled product coupled with the versatile style of the Cimmaron series, makes for an efficient and water conservative toilet, only using about 1.28 gallons of water per flush, it saves approximately 16,500 gallons of water per year, and also saves you a lot of money from your water bills without the need to sacrifice performance. It does this with the use of KOHLER's AquaPiston flush engine. This engine pushes the water out quickly on every angle of the bowl, covering all 360 degrees of it, and with the help of gravity, will create a powerful and plug-free flush.
Also, the Cimmaron has a slightly elevated bowl compared to standard toilets, otherwise known as comfort height. This makes the bowl the same height as a chair, allowing more accessibility for elders and those who are in wheelchairs and walkers.
Though the flushes work perfectly it may drain the bowl slowly which is not a good feature, so before buying ensure that it is properly designed.
If you're looking for a versatile RV toilet to bring with you on your travels, then this is it. This product is designed to be compact, simple in design, but has incredible features that would make this thing perfect for recreational vehicles.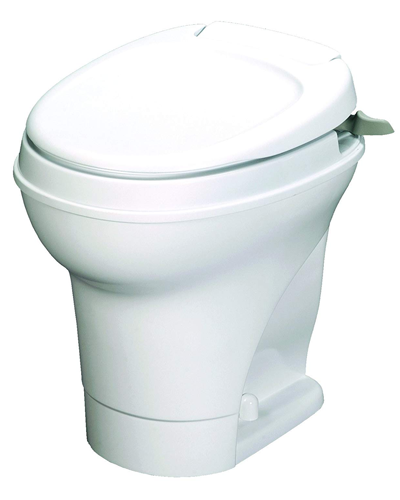 4.5/5
Pros
Versatile
Offers maximum comfort
Water saver
Cons
Not suitable for tall people
The Aqua-Magic V Toilet sort of has a complicated but effective design with its the single-handle flush system. When flushing, you'd need to press it halfway first to fill the bowl with water, once that's done, you pull the lever all the way to flush, that way it provides a full flush coverage of the bowl.
If we talk about comfort, this toilet has it too. With a textured lid, it sheds away water while being scuff resistant, giving it that household toilet feel.
With its high profile design the Aqua Magic V RV toilet gives you the maximum comfort; it comes with a foot pedal design and has a single handle flush system.
Installation doesn't take too much work either as it only weighs in at around 9.4 pounds and is made out of plastic.
You can also install a hand spray with this toilet, making it more water-efficient, while making cleaning up after using the toilet a lot better than using toilet papers.
This product's elevated seating makes it a lot more accessible, having a 17 and a half-inch of seat height, but if you already have a base to mount this toilet, you can get the other variant, a low profile Magic V toilet having only a height of 12-15/16 inches.
When you flush the system it may spray water out the back and even though the product is lightweight, it seems to be light and cheap.
We're back again with another KOHLER product, only this time with a different series. The Highline Classic is a two-piece toilet with an elongated bowl design to promote maximum comfort, while still engineered to take the same space as a rounded bowl toilet. KOHLER's Highline series is considered to be their most efficient line of toilets, and with this product, it's paired with some exceptional features.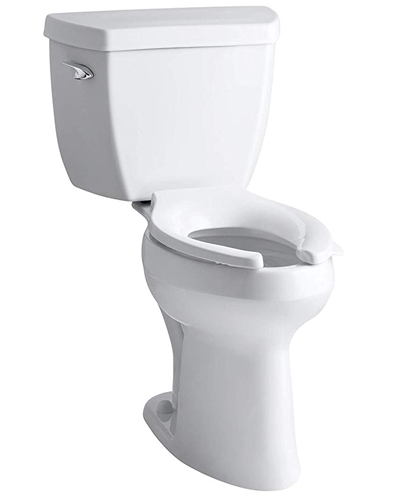 4.5/5
Pros
Easy to install
Has a standard height
Pressure assisted flushing system
Cons
This toilet is equipped with strong flushing capabilities because of its pressure-assisted flushing technology, it can easily flush out big and large quantities of wastes effortlessly while still conserving water.
It only uses about 1.6 gallons of water per flush and would save you around 2,000 gallons of water every year, helping the environment and also helping you save some money. It's also ADA compliant, so if your company is looking to install new toilets, go ahead and suggest this one.
This well-designed toiler has an elongated bowl design which offers comfort due to its extra sitting space, the standard 12-inch rough-in is easy to install.
This stylish toilet can fit into almost any bathroom, especially if you're going for that contemporary or traditional style. It has different variations of color, and all come with an elongated bowl which gives you that extra space.
You can easily install this product yourself as well because it already comes with ready to install bolts upon purchase, and it has a standard 12-inch rough-in. But that's it, some essentials like a wax ring, supply line, and a toilet seat don't come with the purchase, so you'd definitely have some additional costs.
But other than that, this toilet has the functionalities and features that will surely make it worth your investment.
In this model there are no seats, wax ring, or supply line included you have to get it separately which is not fair.
The Memoirs Stately Comfort is a product of KOHLER's other line of toilets. It's built and designed to deliver maximum comfort, efficiency, and accessibility. And the first feature is all about accessibility and comfort.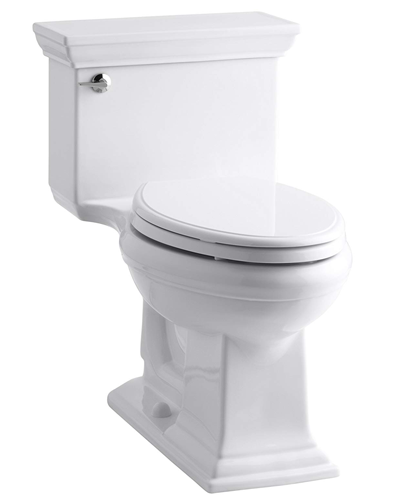 4.4/5
Pros
Easy to clean
Has a quiet flush
Water efficient
Cons
This product has a comfort or universal height, almost similar to a height of a chair which is around 17 to 19 inches, it makes sitting down a lot easier for adults and elders, and to those who are physically impaired.
You don't need to fear about slamming the toilet seat anymore with its a quiet-close feature, while the easily detachable toilet seat also allows you to easily clean this toilet.
It's a great toilet which not only elegant in your bathroom but also offers an excellent functionality and water savings, seats can be maximized to an extent.
With this product being WaterSense labeled, it means that it consumes 20% less water than standard toilets, specifically only using 1.6 gallons of water per flush, that's a significant drop compared to other toilets. It does its job effectively because of the AquaPiston canister design that KOHLER has perfected.
The Aqua Piston shoots streams of water that flows through every direction of the bowl, covering 360 degrees, thus effortlessly and efficiently flushing away waste.
There are chances for leakages in a toilet which is not an acceptable feature, this is the drawback of this product.
Factors to Consider in Buying a Toilet
If you're remodeling your bathroom or constructing a new one, one of the essential fixtures that you get is the toilet. It's essential because we use it every day of our lives, and it's utilized in the bathroom for a long time, somewhere around 15 to 20 years. And that's why if you're looking to purchase one, it needs to be the one that can meet yours and the family's needs and one that satisfies you as you are going to be using it for a long time.
And that's why before purchasing a toilet, certain factors and aspects must be taken into account such as price, design, accessibility, functionality, efficiency, and then you can select the one that meets your requirements. In choosing bathroom essentials, everyone has different tastes, and with the abundance of toilets in the market, there's bound to be one that will match your taste. And to help you guide with your decision, we've listed down some basic factors to aid in your decision in choosing the best toilet for your bathroom.
Here are the different factors to look at in choosing a toilet.
1. Design
The first factor that needs to be considered in the design. There are various toilets already in the market with various design and color. Find one that matches the color scheme or the style that will compliment your bathroom better.
2. Water-Saving Technology
A toilet that uses the least amount of water while completely cleaning out the bowl should be a priority. The Department of Energy stated that a toilet must not use more than 1.6 gallons of water per flush. It's easy to determine if a toilet passes those guidelines, all you need to look for is if it's WaterSense labeled. It means that a toilet uses 20% less water than a standard toilet. A water-efficient is good for the environment and also good for your pocket as it helps you save money through water bills in the long run.
3. Size
If you're just looking to replace your toilet, then it's much more reasonable to get the same size so you won't have any troubles with the installation any more. Usually, the standard size or rough-in of a toilet is around 12-inches, but there are other products in the market who are smaller, or bigger, and some are wall-mounted for maximum space efficiency.
You also need to take into account the height, especially if you're with elders. Standard height of a toilet is somewhere around 12-14 inches, but some toilets have a comfort height design, making it more comfortable and accessible. The height is the same as a chair and is somewhere between 16-18 inches, and some products may even reach 20 inches.
4. Type of Toilet
There are three types of the toilet that are available for commercial and residential use. A one-piece, two-piece, and a wall-mounted toilet.
There are two main components of a toilet, the tank, and the bowl, a one-piece toilet has the toilet and bowl connected together, making it a lot easier to clean and service, while a two-piece toilet has a separate bowl and tank, you need to bolt the two together when installing, and if not installed properly – might result in some leakage. One advantage that a two-piece toilet holds is that you can easily customize it to fit the theme of your bathroom. The third one, a wall-mounted toilet is great for bathrooms with limited space, most of them having minimalist and futuristic design, but costs a lot more than the other two types.
5. Type of Flushing System
There are two types of flushing systems that toilets use, a gravity-based flushing toilet, and a pressure-assisted toilet.
Gravity Assisted Toilets
The toilets that use this design employs the aid of gravity when flushing, hence the name. Water that comes from the tank flows down to the bowl, intro the water trap, and into the drain. Even at low pressures, a gravity toilet still does it's job effectively. You also need to take into consideration the width of a flush valve, the wider the better.
Pressure Assisted Toilets
How a pressure-assisted toilet works are that it mixes air and water in the tank, compressing it to create pressure. Once you activate the flush, the water and air mixture then gets released with great pressure, displacing and flushing down any wastes that might stick on the bowl. Pressure assisted toilets work best with families, but it also comes with some concerns.
First would be the price, second is that a pressure-assisted toilet is noisy when flushing and the third is that it requires a minimum pressure of 25 psi from your supply system for it to work.
6. Shape
This one entirely hinges on the amount of space you have in your bathroom. If you have a limited amount of space, go for a rounded bowl, and if there's substantial space available, you could go for an elongated bowl.
An elongated bowl is much more comfortable compared to a rounded one because it offers more space for you to sit on. If you can find an elongated toilet bowl that takes up the same space as a rounded bowl, then I'd suggest you go for that one. Comfort is something that you should never sacrifice on a toilet bowl.
7. Price
One of the most important factors that you need to take into account is the price of the toilet. It doesn't matter what toilet you choose if it doesn't fit within your budget. The first thing that you need to do before shopping around for a toilet is to determine your budget, if you have that, you can start from there and work your way up.
Even if you have a lower budget, there are still a plethora of items to choose from in the market. But that's not all, some toilets don't come with all the necessary parts for you to use upon purchase. For example, some may not come with a supply line, and some others don't include toilet seats.
If you really care of personal hygiene then you can lead the healthy and happy life. Here is the Video that explains why personal hygiene is important.
Infographics: Best Flushing Toilets
Final Words
By taking all the things above into consideration, you now have a guideline for what to look for and how to choose the best flushing toilet for you.
But in case you find that process to be tedious, we've narrowed down the choices for you with our top 10 list of the best flushing toilets in the market.
Disclaimer: If you purchase any products in this post, we may receive a small commission. We promote only the products which we test and recommend. Read our affiliate disclaimer here.