We all are no strangers to crowded bathrooms, and one of the main culprits that take too much space in a bathroom is the toilet. A toilet is an essential thing to have in every bath and restroom, but some toilets are just too bulky.
Best Overall Wall Hung Toilet
(NoHasslePulmbing #1 Choice)
5/5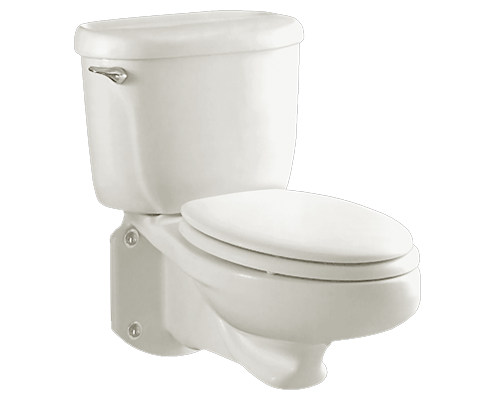 Made Of Vitreous China
Siphon Jet Action
Non Porous Body Coating
Close Coupled Flushometer Tank
If you're someone who's looking for a new toilet to either redecorate, redesign, or just to save space in your bathroom, then you might want to get a wall-mounted toilet. There are various reasons why wall-mounted toilets are now becoming a trend. A wall-mounted toilet gives homeowners who don't have a substantial amount of space on their bathrooms to work with.
With a wall-mounted toilet's compact design, it gives you that much-needed legroom, without compromising the quality and functionality. In addition to that, most wall hung toilet has a wide array of designs that you can choose from to fit and suit your preferences.
In this article, we have compiled and compared multiple wall-mounted toilets that are available in the market right now, and we have come up with a top 10 list of the best wall hung toilets of 2019.
Table: Top 10 Best Wall Hung Toilets
Best Wall Hung Toiltes – 10 Products Reviewed
Manufactured by American Standard, who has been producing some of the best commercial toilets in the market for more than 137 years. That alone is enough to tell you that the products that they make are quality if they are in business for that long already.
5/5
Pros
Sleek and modern look
Powerful pressure siphon jet
Comfortable elongated bowl
Cons
The American Standard Glenwall Wall-Mounted Toilet is made out of high-quality materials, namely Vitreous China, which is a variety of ceramic in which is heated at high temperatures, forming a non-porous body that is then coated with ceramic glaze, which is then infused to the body of the toilet.
It is one of the lowest costs and water-efficient wall mounted toilet in the market, designed to use only 1.6-gallons of water every flush. This toilet is also equipped with a fully glazed 2-1/8 inch trap way, to allow better water flow, and a minimum 2-inch ball pass.
The great advantage of this toilet is its ever clean technology which helps to protect your toilet from the bacteria and other microbe growth. So you don't have to worry about the health safety.
Splashing won't be much of a problem with this toilet as it has quite an amount of water surface area, measuring about 10" by 12". Gone are the days in which you'll have troubles with flushing your toilet as this product is equipped with a pressure-assisted siphon jet action.
The only downside of this product is that it requires you to buy a wall carrier as it doesn't come with any when you purchase it. A carrier is where you install and mount this unit.
This product has the feature and functionality combined with a beautiful design that would fit your bathroom perfectly.
The one issue that we've found in this toilet its price, which is quite expensive for some users but it offers a lot of features for that money. It is a worth able toilet for your money.
Toto is like BMW and Mercedes combined into a single manufacturer, only creating the best and premium quality of toilets. And if you own a product manufactured by Toto, then rejoice as you're in good hands because Toto is one of the leading manufacturers of commercial toilets all over the world.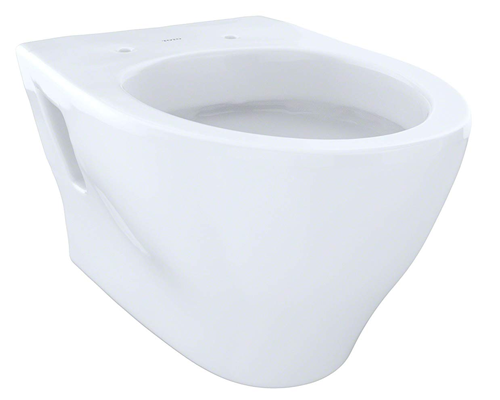 4.8/5
Pros
Convenient seat
Occupy small space
Dual flush technology
Cons
The brand stands for quality and it shows on the CT418 Aquia, one of their best products. This product is equipped with a dual-flush flushing system to ensure that no residue gets left behind, and you might think that a dual flushing system would be a waste of water, but surprisingly, this toilet's consumption is fairly low, only at 0.9 or 1.6 GPF.
The SanaGloss ceramic glaze technology helps to prohibit the growth of bacteria, mildew. And it doesn't require more water to clean. So you no need to worry it is hygienic.
This toilet is equipped and coated with a SanaGloss Ceramic glaze which prevents debris, and mold from sticking to the surface, which allows for better cleaning, which means fewer chemicals used on your toilet, so it'll stay pristine in quality.
The TOTO CT418 Aquia is designed to meet the universal height requirement, which is 17 inches from the floor to the top of the toilet seat. This product is compatible with other TOTO products such as an in-wall tank system, soft close and commercial seats, and etc.
Specifications
Water Use – 1.6 GPF & 0.9 GPF
Dual Flush System
A water surface of 5.5" x 4.75"
Trap Diameter of 2-1/8"
Installation height of 15" to 19"
Made out of Vitreous China
The one negative point of this toilet its size, which is too small, so the cleaning process is slightly difficult for you.
The manufacturer of this product, TOTO, has been unmatched in the industry for producing top of the line and premium quality wall-mounted toilets. If you're ever in the market for beautifully designed bathroom fixtures that can do it all, then there's no other else that can deliver the way TOTO does with their products.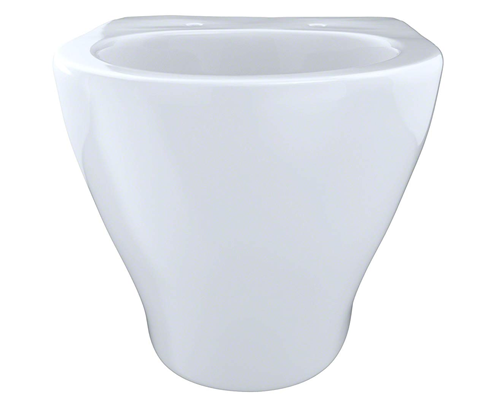 4.7/5
Pros
Stylish toilet
Save more space
Perfect seat height
Cons
Wall tank installation is little hard
This product, in particular, is equipped with an efficient dual flushing system that uses only 1.6 gallons per flush or 6.0 liters per flush, and a 0.9-GPF/3.0-LPF on the other system. Ensuring that no residue or debris is left after flushing.
The TOTO CT418F#1 Aquia is made out of highly durable material, specifically vitreous china. This material can withstand the test of time while having a beautiful and sleek finish to it.
It requires 1.6 gallons of water per flush, which helps to reduce your money and save water. And its dual max flushing function works well and effectively remove the solid waste.
The SanaGloss ceramic glaze design that this product has prevents any mold from forming and sticking on to the ceramic bowl, saving you the trouble of having to thoroughly scrub it off and using chemicals that could potentially damage the material.
The TOTO CT418F offers an elongated bowl, coupled with a skirted and modern design, allows you to save valuable space in your bathrooms. With the comfort and accessibility in mind, the manufacturers have designed this product to be at universal height, which means it's elevated 17" inches from the bathroom floor.
One problem with this product is that the in-wall system is sold separately. The in-wall system is where you install and mount this toilet.
One major problem of this toilet is it does not include a wall toilet tank system and a flush plate. Other than, it is one of our best toilets.
Manufactured and created by American Standard, who has been in the industry for a hundred and thirty-seven years, they have the science of creating toilet bowls down. All of their products are built to last and are durable enough to withstand constant use for years and years.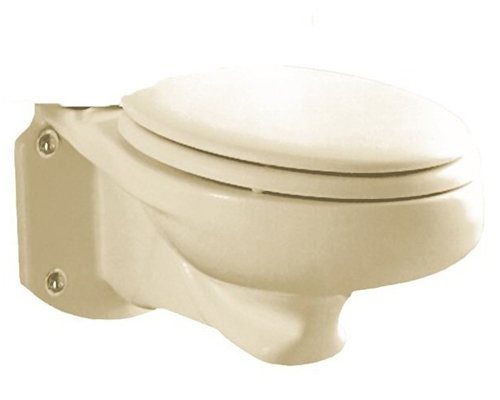 4.6/5
Pros
Pressure siphon jet
Strong metal trip lever
Coated with non porous
Cons
Require 3 flush for cleaning
This product is an American Standard commercial toilet that is well equipped to do the job. This wall-mounted product has an elongated bowl that promotes comfort to the user.
There are two commonly used materials to make toilets nowadays, and those are vitreous china and porcelain although both are the same, vitreous china is more of a technique done to strengthen porcelain. And this product is made out of vitreous china, it's a technique where you glaze porcelain with enamel during the heating process.
The elongated bowl of this toilet is very convenient to use, which is modern, elegant, and space saving design. It helps to save more space in your toilet room so you can easily maintain the toilet room.
Simply put, vitreous china is a stronger version of porcelain, which has a lot of benefits such as a spill, scrape, and scratch-resistant. Vitreous china offers great durability and has sanitary properties that would be perfect for bathroom use.
This toilet is also equipped with a pressure-assisted siphon jet action which effortlessly clears any debris when flushing, making sure that nothing gets left behind. And since it's pressure-assisted, it doesn't use too much water either.
The bowl also has a water surface area of 10-inches x 12-inches, and a fully glazed trap way measuring about 2-1/8 inches. This means less waste sticking on the side of the boals, and less splashing.
This product offers comfort, functionality, and convenience, and if you're a fan of that, then you'll surely love this product.
The main issue of this toilet is it doesn't come with a proper installation kit so some new users may face the installation problem.
This product is designed by the renowned french industrial designer Philippe Starck, and manufactured by the company Duravit. This product, considered to be one of the most compacts in the market, has a futuristic and minimalist design that would fit in on every bathroom. Starck 3's design has been considered to be one of the most revolutionary designs for toilets.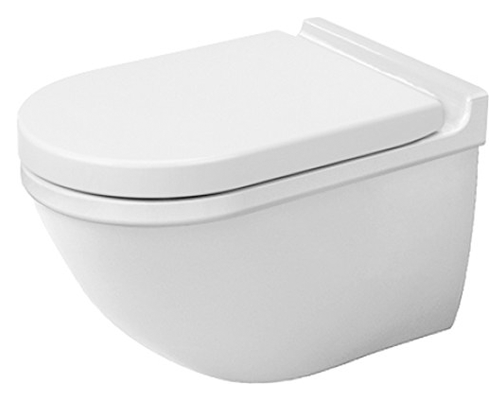 4.8/5
Pros
Uses less water
Adjustable seat
Water sense certified toilet
Cons
Took more time for installation
It's made out of ceramic glaze with anti-bacterial properties that helps it keep its pristine look and condition. If paired with the right tank system, it can flush out and remove any solid waste effortlessly. Only using about 1.6 gallons per flush, it's surprisingly water efficient.
The unique feature of this toilet is it attaches with the downward washing system, which helps to get the solid wastes efficiently. And its flush also cleans all the wastes quickly.
This product comes and is installed with the patented Durafix design by Duravit. The Durafix is an easy to set-up attachment system that allows you to mount your Duravit toilet bowl onto a wall without any visible holes or covers, basically making the mounting system invisible.
A word of caution, this product may be on the expensive of things, and if you do purchase this, just be informed that there's no toilet seat with it, and you need to buy it separately.
Some users complaining about the flush which is not work properly. So the issue may create while the cleaning process.
When we talk about toilets, Kohler is one of those reliable brands that most people in the US recognize. They manufacture high-quality mid-price ranged toilets that are perfect for commercial use, and the Kohler K-6299-0 Veil Toilet is no exception to that.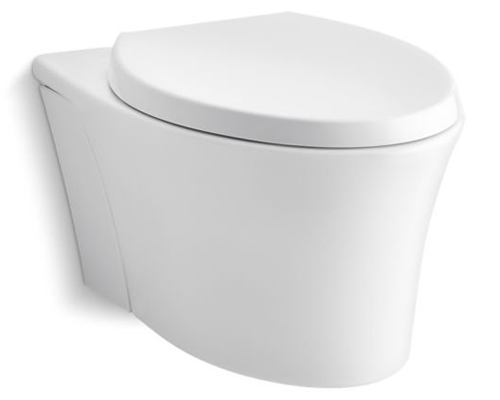 4.5/5
Pros
Easy installation
Supreme quality design
Well made and last for long days
Cons
This one-piece wall-hung toilet offers a compact design, while still offering the best comfort that we so desperately seek in a toilet bowl.
It has an elongated shape, but the space it takes is the same as a standard round-front bowl, which makes it a perfect addition for a small-sized bathroom. Add the fact that the mounting system or the in-wall tank is neatly tucked inside the wall, it gives this product that seamless and clean look without sacrificing space and functionality.
The full flush uses 1.6 gallons of water while the half flush uses 0.8 gallons of water, which means you, can also use the half flush. It is not necessary to use the full flush always.
It's equipped with a dual flush system, allowing you to choose between two options, either a 0.8GPL, which is for water waste and a 1.6GPL, intended for solid wastes. Allowing you to save more water without the need to sacrifice performance.
The installation has never been easier with this product as well, it comes with a durable steel frame bracket that is installed behind the wall to give it that minimalist and clean look, and on top of that the flexibility in installation. With the support of the steel frame, you can set this toilet up to be 15" up to 28" from the floor.
If this product fits the description of that wall-mounted toilet that you need, then you won't regret this purchase.
The cover panels made of the plastic which may break sometime and it creates irritation to your back.
Manufactured by the renowned KOHLER, who has been in the business of designing and creating commercial toilets and more since 1873. With all those years under their belt, experience, and expertise combined, they have come up with the KOHLER K-6299-7 Veil Wall-Hung Toilet Bowl.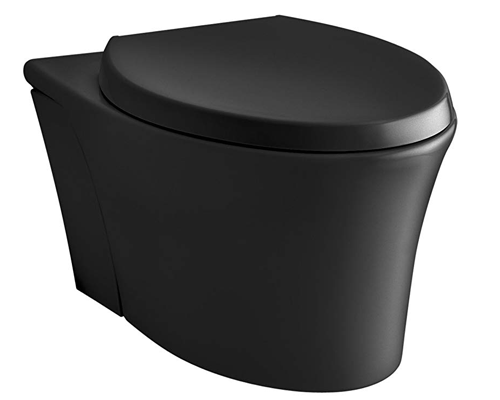 4.6/5
Pros
Tight Q3 seat
Comfort compact bowl
Sleek and seamless look
Cons
Doesn't have wall tank and carrier system
This jet-black colored product offers a futuristic and sleek design coupled with the functionality that would put other toilet bowls to shame. This product saves you up to 12 inches of space in your bathroom because of it's concealed in-wall mounting system that doesn't just save you space but also gives that futuristic element to your bathroom, ideal for those who have limited space on their bathroom but still want the aesthetics.
It's designed with an elongated bowl that allows you, the user, to be comfortable when using it, without taking too much space, only extending about an inch and a half compared to a rounded end toilet bowl. This product is also designed with comfort height, otherwise known as a handicapped toilet, which means it has a higher seat for ease of use.
It occupies less space in your room so you can easily maintain your toilet room without any disturbance.
Made out of vitreous china, this porcelain toilet bowl is durable and is infused with anti-bacterial properties, giving it that sleek, and seamless look, while being easy to clean. On top of that, this product is equipped with a dual flush system that allows you to conserve water, one is meant to flush down water waste while the other for solid waste.
Accessibility, comfort, and practicality are how we describe this product the most, and if you're a fan of that, then you'll surely love this one.
Its plastic panels are broke easily, and the cleaning process also very hard in this toilet. It takes more than three flushes for cleaning and spends more water.
If you're looking for a modern, luxurious, and sleek wall mounted toilet to add in your bathroom, then this is it. This product is what's described to be a luxurious design meets comfort and functionality. It allows you to save precious bathroom space while still giving you that luxurious aesthetic.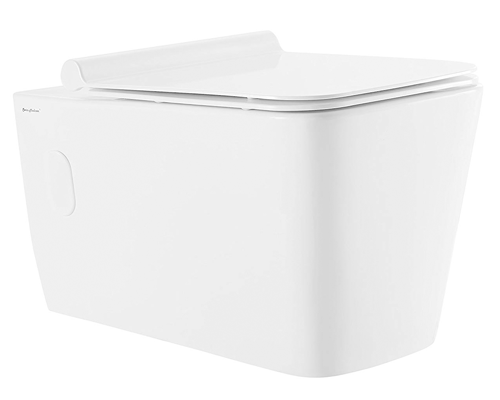 4.5/5
Pros
Reasonable price
Environmental friendly toilet
Sleek, modern and unique design
Cons
It's mounted on a complete concealed carrier tank in the walls, while still providing you with easy access to the plumbing system through the toilet's actuator plate. It also has a soft close seat, which is great if you don't want to disturb anyone else in the middle of the night when you do your business.
The height of the toilet is adjustable, so it is an ideal choice for kids to eldest people. The dual flush technology uses less water for each flush.
The Swiss Madison Concorde Wall Mounted Toilet is also a cost-efficient product, it's WaterSense certified and has also met the standards of EPA flushing guidelines, allowing you to save money through water bills over time because of it's the dual flush system. You can either choose a full flush(1.28GPL) for solid wastes or a partial flush(0.8GPL) for liquid wastes, one thing is for sure, this toilet does it's job efficiently.
One thing to note about this product though is that you need to purchase the toilet carrier tank separately and might affect your budget. But for those who's fine with the extra investment, this product will never fail you. The wall mount has a quick release feature that makes cleaning and maintenance a lot easier.
This toilet doesn't have the carrier tank system, you should buy it separately. It is not a big deal; the price of the tank is affordable to buy.
Another one on the list from Duravit, and it's not surprising. Duravit is one of the best brands when it comes to creating wall-mounted toilet bowls. The designs and features that they're implemented on their products are unmatched and what's best is that their products are all reasonably priced.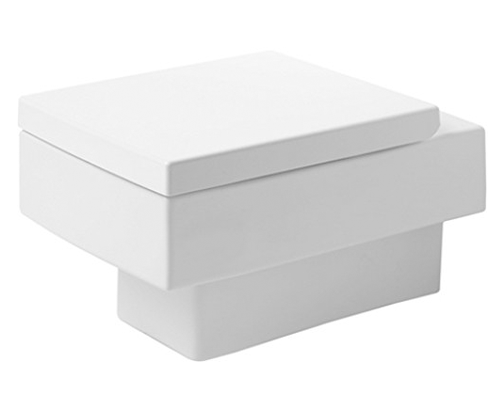 4.5/5
Pros
Simple to clean
Unique rectangular bowl
WonderGliss coating
Cons
This product, unlike any other in the market, is square-shaped, and because of that, it's a lot more convenient compared to traditional shaped rounded bowls because it takes less space, and depending on the layout and design of your bathroom, this product may help it look even better.
It's a medium-sized toilet, weighing at about 14.6×21.5×15.8 inches, and is made out of porcelain infused with metallic brass materials, making it durable couples with a sleek and minimalist design. It's also equipped with the patented WonderGliss design from Duravit, which is a coating that is infused in the ceramic, making the toilet resistant to grime.
It is one of the versatile performance toilets when compared to the other competitors which are available in today's market. It made of porcelain and brass metallic, which ensures the quality of the toilet and it will last for a long day.
With how the smooth the bowl is, dirt and limescale can't grab hold and will easily run off with water. Any toilets equipped with WonderGliss will stay clean and smooth for a longer period of times and will be very easy to clean. And in relation to this, flushing doesn't take much of an effort as well, resulting in less water used, using only 1.6 gallons per flush.
So if you're in the market for a well-priced wall mounted toilet bowl that is comfortable, efficient, and made out of quality materials, this product is for you.
It doesn't offer so many color options. If you are the color chooser you cannot choose your preferred colors. Other than, it is one of the best models.
You might notice that TOTO is constantly in this list, and it's undeniable, TOTO is a world-class manufacturer when it comes to toilet bowls. Their attention to detail, countless years upon years of research and development, and their drive to continuously improve their products for over 90+ years has put them on top.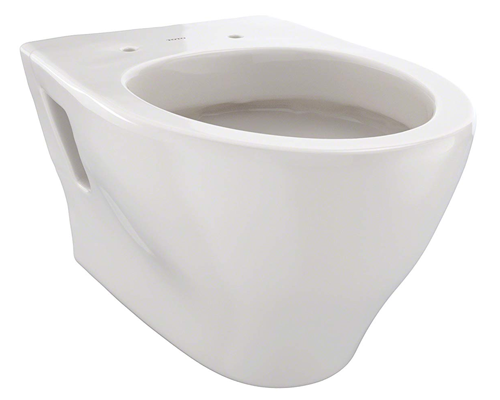 4.4/5
Pros
Compact size
Affordable price
Made of vitreous china material
Cons
And all those hard work shows on the TOTO CT418F#12 Aquia Wall-Hung Toilet Bowl. This sleek and modern looking product has an elongated bowl and a skirted design, paired with their dual-max flushing system, this product is considered to be one of the most efficient toilet bowls in the market.
It's made out of vitreous china, which is porcelain glazed with enamel during the heating stage to further strengthen it, giving it a nice sleek and smooth finish with anti-bacterial properties, making this toilet a lot easier to clean.
The great feature of this toilet is CalGreen obedient that means this toilet is environmentally friendly. So it is the best choice for our environment.
The dual-max flushing system that we mentioned earlier comes in handy in preserving water. For liquid wastes, you can do a soft flush which only consumes 0.9 GPF, and for solid wastes – you can do a hard flush which uses 1.6 GPF.
TOTO has designed this product to serve people from all types of ages and abilities. The Universal Height design makes this toilet a lot more accessible to everyone, putting it at a manageable height.
The only downside that this product has is that it doesn't come with an in-wall tank system. And that you need to invest in a separate in-wall system in order to install this toilet, but if you do decide to invest in one, the experience that you'll get with this toilet will be more than worth it.
One major issue of this TOTO CT418F#12 Aquia Wall-Hung Toilet Bowl is it doesn't have a seat, you should buy it separately. There are so many choices are available for its seat.
Factors in Choosing a Toilet
We call a toilet a lot of things, from loo, commode, privy, and etc. But no matter what anyone else calls it, we can't deny that it's part of our daily lives. Provided that an average person uses the toilet a staggering 2,500 times a year, it's imperative that you choose one that you don't dread using, and rather be comfortable and happy, and to the extremes of looking forward to using it every day.
Luckily for us consumers, there are tons and tons of options available to us in today's market. As trends and technology keep on advancing, the manufacturers keep on upping each other, developing some of the best toilets in the world. No matter what your preference is, there's a product in the market that will surely match your needs. We'll talk you through the basics and the factors that you should consider in choosing a toilet.
1. Consider the rough-in
A rough-in is the measurement or the distance of the bolt cap to the wall, most usually have a standard distance of 10, 12, and 14 inches of rough-in. With this information, a plumber will know what kind and type of toilet are they able to install.
In scouring the market for a toilet, make sure to take this into consideration, because they might have trouble installing it because of other factors such as a limited amount of space. Although this information only applies to floor-mounted toilets and doesn't apply to wall-mounted ones.
2. Toilet Style and Type
There are different styles of toilets and a wide variety to choose from such as traditional, minimalist, modern, eclectic, and contemporary. After you've figured out what you want and what style you're going for, you can then scour the market for that one product will meet your needs and preferences.
Now if we talk about toilet style, there are several as well, a one-piece, two-piece, a tankless, and a wall-mounted type. There are several factors that will decide on which type of toilet you'll want or need to get.
Two-piece Toilets – This type of toilet consists of two pieces, specifically a bowl and a tank, usually bolted on top. Depending on which brand you'll get, you might have the option to mix and match the bowl and tank, but some brands sell them together.
In mixing and matching your bowl and tank, it's important that you check if they securely align with the bolt holes. Two-piece toilets are one of the most flexible in terms of style, and finding one that would match the mood of your bathroom is a lot easier compared to other types.
Tankless Toilets – Basically the name, you remove the tank that you can find on a one-piece and two-piece toilet sets. This style of toilet will allow you to save space while providing you with that minimalist look that would often compliment any types of bathrooms.
A tankless toilet is much easier to clean compared to their counterparts, and on top of that, they flush more effectively, and it's because a tankless toilet is directly connected to a water line rather than stocking water on a tank. If you're into modern, eclectic, minimalist, and contemporary styles, a tankless toilet is more right up your alley.
Wall-mounted Toilets – Known also as wall-hung toilets, a wall-mounted is often bolted to a wall or has a mounting system that allows you to save an even bigger space, with a cleaner and more minimalist design. A wall-mounted toilet, especially design with universal height, are some of the best types of the toilet that you can get especially if you have someone in the household who has limited mobility. The height of a wall-mounted toilet makes it more accessible for people who are in wheelchairs or walkers, allowing for a much easier transfer.A small bathroom is the one who can utilize a wall-mounted toilet the most, if you're in the market for one, make sure to thoroughly check or consult a plumber to see if your walls are thick and strong enough to support all the weight that it'll be handling.
3. Decide on Round Bowl VS Elongated Bowl
This may seem like inane at first, but both hold a distinct advantage over the other. There are few differences between rounded and elongated bowl shaped toilet so you have to choose based on your need. One thing that will help you in deciding whether to get the former or the latter is your bathroom layout. If you have limited space on your bathroom, then a round bowl may offer you a little bit of room, while an elongated bowl, on the other hand, is more suited to a spacious bathroom.
4. Flush Efficiency
An efficient toilet when it comes to flushing is a must, and that's why it's important that you choose one that has the capabilities of doing so. There is an organization that conducts toilet-testing called MaP, which you can refer to in comparing toilets. They measure the flush performance, based on the toilet's ability to remove solid waste, measuring from 250 grams up to 1,00 grams. Performance is measured by the amount a toilet gets, the higher the number, the stronger it's flushing power is.
There are two designs on how a toilet flushes, those two are the following:
Gravity Toilets – This type of design is commonly used by commercial toilets, and are most commonly found in homes. It utilizes the gravity to do the job, and how it works is that the water that's stored in the tank gets released after the activation of the handle, the water then flows downwards with the help of gravity to flush out any waste.
Pressure-Assisted Toilets – are mostly fitted with a mechanical tank inside a toilet tank. Upon activation, the plastic tank would push out a stream of water, which then removes the wastes and makes flushing more efficient while conserving water at the same time.
A pressure-assisted toilet is a much more efficient system compared to a gravity toilet, but one downside of it is that it's quite tricky to install, and would usually need assistance from a professional.
5. Water Efficiency
Having a water-efficient toilet not only saves the environment but also saves you a lot of money from water bills. A highly efficient toilet can save you almost $100+ per year, and that adds up.
A traditional and standard toilet would use 1.6 gallons per flush, while a more efficient toilet would likely useless, usually at around 1.28 gallons per flush.
Another way to know if a toilet is water efficient is if it has a dual flushing system. A dual flushing system would have two options for soft flushing, usually meant for liquid wastes, and a full flush, which is meant for solid wastes. Having an option is one way of avoiding using unnecessary amounts of water, and is such a great design to have for a toilet.
When shopping around for a toilet, look for one that is WaterSense certified. A WaterSense labeled toilet would utilize less water compared to a traditional one, up to 20% less water compared to a standard toilet.
6. Accessibility
If you have someone in the household who's physically challenged, you might want to get an ADA compliant toilet, and even if there's none, having one will always be a good investment.
A standard toilet usually has a 14.5" of elevation, while an ADA compliant one, known as a universal height or comfort height, is higher, usually at an elevation of 16 to 18 inches. That slightly elevated height makes it a lot easier for people who are in wheelchairs and walkers to be easily transferred.
7. Other features
There are some premium toilets that offer additional features and quality of life improvements such as:
Quiet Close – Worried about waking someone up in the middle of the night? Worry no more with the quiet close toilet lid. With a quiet close lid, you won't wake the whole house anymore when you accidentally drop the lid.
Quick Release – These are more prominent on-wall-mounted toilets. Quick-release means that you can easily remove a toilet from its mount to allow you to clean it thoroughly.
Bidet Technology – After I've tried a bidet, I can't go back to using toilet paper anymore. A bidet is a much more thorough and easy way by using a stream of water to clean your private areas after using the toilet.
There are pros and cons of using wall hung toilets that you should know before you buying it. So have a clear about your choice of products and requirements and then initiate your search of products.
Hopefully, our guide has provided you the list of best products and the factors that you have to consider in deciding what and which wall hung toilet to get.
Disclaimer: If you purchase any products in this post, we may receive a small commission. We promote only the products which we test and recommend. Read our affiliate disclaimer here.